Bettas are gorgeous, gracious yet mildly self-centered aquatic pets. And, with their greedy and confusing appetite, a lot of newbie aquarists struggle to find the best betta fish food.
These petite aquatic creatures do not hesitate every time they see food. In fact, these creatures will steal food from their aquarium mates whenever they see something they can eat.
And, while they seem to be the types of fish that literally eat anything, they may be a little picky.
So, what is the best food for betta fish? How do you know if the fish food you bought was ideal for your betta friends?
Are there any feeding guidelines, or will they keep eating until they are full?
Well, guess what? I am going to address some of these questions to help you find the best food for betta fish in your aquarium.
And, more importantly, I will unveil as well as review the best betta fish food on the market today.
Keep scrolling down and read these helpful nuggets of information.
What Do Betta Eat?
Bettas are, in general, carnivorous. They come from Southeast Asia, where their diet mainly consists of larvae and insects.
Although some people say these pets can live off aquatic plants, that's absolutely not true.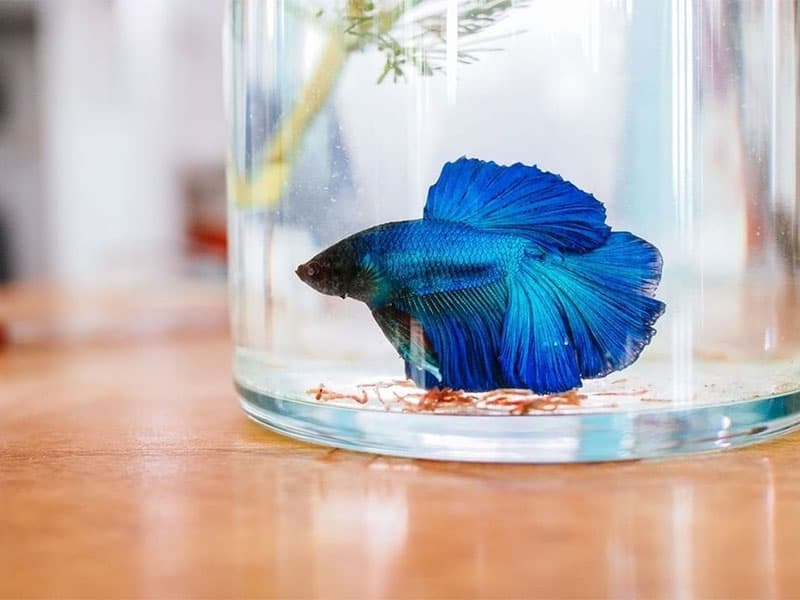 The truth is, an average betta fish has a short digestive tract, which is a classic sign of a typical carnivore.
So, do not let your betta fish live off aquatic plants in your aquarium. They definitely might occasionally eat plants, but there will be little to no nutrition in it for these creatures.
The meat these fish eat is high in fiber and protein. The insects they consume in the wild contain a lot of fiber inside their stomachs from all the food that they have already eaten.
In addition to fiber and protein, they need to eat food with moisture since it helps in their digestion. Plus, they will need a mixture of vitamins and nutrients in their diet.
They need carbohydrates for energy, calcium for bone strength, fats for some energy storage, and phosphorus for their cell growth.
It sounds like a lot, right? Actually, the best food for betta fish can give everything they need to thrive in the aquatic environment that you have made for them.
Best Betta Fish Food Types
Do not know which kind of fish food is best for your betta fish? Then, spend a little time reading the tips and information that I share below.
Floating Pellet
The floating pellet is arguably the best betta fish food type and often deemed as a staple for their diet. Since there are plenty of floating pellet brands and sizes available, make sure to spend a little time evaluating their quality.
Read their ingredients and look for a floating pellet that is rich in protein. As a general rule of the thumb, excellent fish food should have a crude protein content of more than 30%.
Betta Flakes
Betta flakes are terrific options. Not only are they affordable but also they provide a ton of nutrients needed for your betta fish to flourish.
But, on the downside, betta flakes are less nutritious as compared to live or freshly prepared food as well as pellets. Therefore, it should not be your betta's primary source of food.
You may periodically exclude and include flakes from the diet of your fish, swapping them out for other options.
Sinking Pellets
Sinking pellets can be a staple in your fish's diet. After all, it is just as nutritious and healthy as the floating pellets.
In the wild, these creatures normally eat on the water's surface, meaning this type of betta fish food does not mimic the natural eating instinct.
Nevertheless, betta will consume this type of fish food before it reaches the bottom of the tank.
Live Food
Live food is considerably the best type of fish food that will meet your betta's dietary needs. Plus, these sources of food will help your betta fish live long.
There are, however, some drawbacks to it, including maintenance, availability, and price. Live food sources are pricey and hard to find.
Moreover, it requires some specific conditions for storage.
Frozen Food
Frozen food is practically the same as live food, except that it is frozen. Some betta fish keepers prefer this option because it is a lot easier to store.
Furthermore, keeping it frozen means you are definitely increasing its lifespan as well as reducing the risks of contamination.
While it is less nutritional than live food, which is nonetheless easier to find and cheaper.
Bloodworms
Bloodworms, or also referred to as Glycera, are the midge fly's larvae and can be found in ponds and pools. Betta fish, for the most part, eat these things in the wild, making bloodworms an ideal variety for the picky eater.
Betta fish put on a spectacular show when chasing these guys. Still, it should not be a primary or exclusive food source since it lacks amino acids.
On the bright side, they are rich in iron, which results in the betta's red and bright colors.
Betta Fish Food Comparison Chart 2021
Need tips on which betta fish food is best for your aquarium yet? Check out this detailed comparison chart to find the best betta fish food available on the market today.
Which Are The Best Betta Fish Foods To Buy?
Want to make the selection process easier, simpler, and faster? Why not consider the options I have mentioned on this list!
Reviews Of The Best Betta Fish Foods in 2021
One of the best ways to score the best betta fish food is to read a lot of reviews. So, I have reviewed some of the best betta fish food options available today, to help you pick the right one for your aquarium.
1. Hikari Betta Fish Food Bio Gold
(Best Overall)
Hikari Betta Bio Gold is a premier betta fish food that can be beneficial to you in a lot of ways. For one, these Hikari pellets are small-sized and float longer.
And since betta fish prefer eating food on the water's surface, these floating pellets are, for me, more delicious to your fish.
Furthermore, it lets you monitor closely how much your betta fish has eaten, ultimately helping you prevent overfeeding.
In my opinion, this fish food is specially made for betta fish. Not only is it rich in protein, but it also contains a heap of minerals and vitamins that can help develop a healthy immune system.
As a matter of fact, this fish food is rich in Vitamin C as well.
And, unlike other fish food, Hikari Betta Bio Gold has Astaxanthin, a protein source that boosts the vibrant colors of your betta fish.
Key Features:
Boosts immune system
Enhances betta's colors
Eliminates overfeeding
Reduces quality problems in water
Pros
Small-sized pellets
It has Astaxanthin
Does not sink
Improves the fish's health as well as reduces its stress
Cons
Artificial coloring and fillers
2. Tetra Bettamin Fish Food
(Best Fish Food Flakes)
Actually, one of the primary reasons I decided to keep a bunch of betta fish is because they are so darn gorgeous. The mixture of their enticing color and long striking fins is simply irresistible.
That is why I go to extreme lengths to make sure that each of my bettas retains its grandeur throughout its lifetime.
And, Tetra is one of my go-to fish food, when it comes to retaining their beauty. With its perfect blend of minerals, vitamins, and natural color enhancers, this fish food helps promote their breathtaking colors while providing a healthy and balanced diet.
Even better, it comes with frozen shrimp, meaning your beloved pets can enjoy one of their favorite, whole natural foods.
Key Features:
It does not make the water cloudy
Flakes come in a variety of sizes
Helps improve and retain vibrant colors
Pros
Has powerful natural color enhancers like beta-carotene
Has the right mixture of minerals and vitamins like Omega 3 fatty acids
Does not dissolve quickly
Cons
Harder to clean, compared to pellets
Not ideal for smaller tanks
3. Omega One Freeze-Dried Betta Fish Food
(Best Freeze-Dried Fish Food)
Looking for the best freeze-dried food for your betta fish? Trust me, you originally adore the Omega One freeze-fried fish food.
Offering a high-protein and nutritious treat, this betta fish food is made from authentic and full-bodied bloodworms that are jam-packed with minerals and vitamins.
Truthfully, they are as nutritious as the typical bloodworms and live food, but without the risk of parasites and bacteria.
And, this fish food is so delicious that your betta fish will zoom over at a rapid pace and virtually come out of the water to grab their treat. Plus, it is suitable for other types of fish as well.
Key Features:
Perfect for saltwater and freshwater fish
Safe alternative to live bloodworms
High in minerals and vitamins
Pros
Fish seem to love the taste
High in protein
Full worms
Perfect for picky eaters
Cons
The worms are a little loose inside the container
Does not work quite well on larger community tanks
4. Ocean Nutrition Food for Betta Fish
(Most Vitamin-Rich Fish Food)
Want a small-size pellet that expands as well as floats longer on the water's surface than other food for betta fish? If so, then you certainly should check out the Ocean Nutrition food for betta fish.
With this special option, your betta will have plenty of time to snag the floating foods. This, in turn, helps keep your fish tank clean.
Certainly, this betta fish food contains a lot of protein, minerals, vitamins, and nutrients. With its nutritious blend of ingredients, you literally do not have to add any supplement or fish food to meet your betta's nutritional needs.
Key Features:
Loaded with minerals and vitamins
High protein content
It will not make cloud the aquarium water
Pros
Remains fresh for a long time
Floats longer than other best food for betta fish
Expands
Has all the nutrients needed for a healthy betta fish
Cons
A little pricey
Does not enhance your betta's color
5. San Francisco Bay Betta Fish Food
(Best in Protein Content)
I am not going to lie. This option is a little bit expensive compared to other fish food with the same quantity. Although, it remains a favorite and is often deemed as one of the best betta fish foods.
Nutritious and healthy, this betta fish food is loaded with essential fatty acids, lipids, and protein to keep your pet energized and healthy.
With the San Francisco Bay betta fish food, you may want to feed your fish twice per day. Also, do not forget to feed your fish a certain amount that they can consume in 3 minutes.
A word of advice, make sure to remove every uneaten food with this option, to prevent the aquarium water from discoloring.
Key Features:
Contains all the essential nutrients needed
Excellent for a picky eater
Stimulates growth
Pros
Healthy option
Excellent primary food source
Hardly smells
Extremely high in protein content
Enhances fish color
6. Aqueon Pro Betta Fish Food
There is nothing quite like Aqueon Pro. Designed by premier fish nutritionists, this fish food is formulated with a variety of ingredients and is based on the natural diet of the betta.
Also, I really love these pellets because they are more consistently shaped and sized, compared to other brands.
With other betta fish food pellets, sizes, and shapes often widely vary, meaning I have to evaluate visually every serving to ensure my finned buddies are getting the exact servings.
For me, it is a bit easier to scoop out consistently sized fish pellets and can be sure that the portion is perfect.
Key Features:
Based on the natural diet of bettas
Developed by experts in fish nutrition
Has added nutrients for support in immunity
Pros
Consistently shaped and sized
High protein content
Has an excellent blend of Vitamin E, Vitamin C, and Algae
Cons
Sinks quickly compared to the other best betta fish food
7. New Life Spectrum Food for Betta Fish
(Best Color Enhancer)
They do not call New Life Spectrum as one of the best betta fish food brands for nothing. For many years, it has been an aquarist's favorite, thanks to its rich protein content.
And guess what? It gets its protein from an array of healthy sources, including mussels, squid, herring and Antarctic krill.
And, though protein is its main ingredient, this betta fish food also has an algae meal. Even better, this betta fish food contains vegetable and fruit extracts to provide a healthy, well-rounded diet that features all the essential minerals and vitamins.
On top it of all, a bunch of natural ingredients has been added to sustain and enhance the colors of your betta fish.
Key Features:
Made in U.S.A
Enhances the color of your betta fish
Packed with protein and nutrients
Pros
Food is easy on the stomach of your betta
Keeps water healthy and balanced
Best color enhancer
Cons
Pellet sizing is inconsistent
Sinks quickly since it is semi-floating
8. Northfin Betta Fish Food
(Best for Newbies)
It is always a better idea to have a variety of fish food on rotation for your betta. Just recently, I added this fish food to one of my tanks, and my bettas have been having a blast with it.
Ever since I started using it, my bettas have been pretty alert, curious, active, and incredibly colorful. Moreover, there is no issues of bloating, thus far.
To me, it is easily one of the best betta fish food options today. Just take a look at its protein content as well as ingredients, and you will see why I love it so much.
And, unlike some betta fish food brands, there is no artificial color, dye, fillers, or hormones on this Northfin food.
As far as size goes, it has the perfect 1mm size.
Key Features:
Perfectly sized
Floats longer than others
Easily digestible
Nutritious diet
Pros
Packed with nutrients
No hormones or filler
No artificial coloring
Bettas seem to love it
Cons
Hard to find
A bit costly
9. Omega One Betta Fish Food
Omega One is a high protein fish food that uses fresh and nutritious seafood as its formula's main ingredient.
It has Salmon, which is loaded with protein as well as tons of other nutritious and beneficial minerals that your betta fish needs.
And, did I mention that the salmon skin's natural pigments also help your betta fish keep a vibrant and bright color?
Every pellet has a 1.5-millimeter diameter and is designed to sink slowly. This, as a result, makes it easier for your betta fish to consume their food.
Also, it is easy to remove the pellets that are not consumed because they float longer.
Of course, it is also rich in vitamins, fats, and fiber for better digestion.
Key Features:
Contains natural and fresh fats
Rich in Omega 6 and 3
Enhances fish colors using the salmon skin's natural pigments
Pros
Does not make the water cloudy since it is low in ash
Rich in crude protein
Floats long
Cons
Pellet size is inconsistent
Has artificial colors and fillers
10. Omega One Freeze-Dried Shrimps Betta Fish Food
I bought a beautiful betta fish from a local pet shop and had problems feeding it. As it turned out, my aquatic friend was a picky eater, refusing to eat all my betta fish food.
It did not eat anything for a few days.
And, the Omega one freeze-dried food arrived before it died of its hunger strike. Thankfully, the betta fish loves it so much.
Ever since then, I have been using this betta fish food when feeding picky eaters.
The shrimps in this product are packaged as tiny cubes that easily break apart in your fingers. Usually, I grind around half a cube of it and sprinkle it on my community aquarium.
The fish always get riled up and crave for more whenever I feed them with this food.
Key Features:
Nutritious food
Premium quality ingredients
Safe alternative
Pros
Perfect for picky eaters
High in protein content
Fish love its taste
Cons
It dissolves into a little messy powder substance
11. Hikari Daphnia Betta Fish Food
Extraordinary and nutritious, this Hikari fish food uses daphnia as its primary ingredient to create a unique taste and texture.
With oxygen absorbers and nitrogen charging, it is also well-known for greatly marvelous reducing oxidation.
After putting it in the water, the betta fish food tends to soften, yet it does not dissolve quickly into small pieces. Instead, the betta fish food remains a whole for maximum absorption.
Also, another thing that I really love about this formula is that it can clear the intestines of my betta fish.
Every time my fish are bloated or constipated, I turn to Hikari Daphnia for a dependable, quick, and easily fix.
Key Features:
Rich in vitamins to reduce fish stress
Free from harmful bacteria and parasites
Does not make the water cloudy
Pros
Has undergone the process of freeze-drying to preserve its nutrients
Ideal for bloated and constipated fish
Rich in nutrients
Inexpensive
Enhances betta's color
Cons
Hard to clean because the flakes are rather tiny
12. Hikari Frozen Tubifex Worms Betta Fish Food
Bettas are, in general, delicate and fragile fish. So, it is essential to look for the best food for betta fish that is packed with vitamins.
And that is why I love the Hikari Frozen Tubifex, and even consider it as one of the best betta fish food brands.
This product consists of tubifex worms, which are rich in protein and nutrients. Moreover, a multitude of vitamins is added to the formula to prevent stress as well as stress-related diseases.
Like the Hikari Daphnia, this product employs the pharmaceutical technique of freeze-drying to produce the best and fresh betta fish food possible. So, in other words, it is designed to make your fish eat better.
Also, the tubifex worms are made into tiny cubes for convenient daily use.
Key Features:
Rich in vitamins
Suitable for Goldfish and other small tropical fish
Free of harmful bacteria and parasites
Pros
Convenient for daily use
Healthy and nutritious treat
Safe alternative
Cons
Can make the tank appear cloudy
13. Omega One Flakes Betta Fish Food
If your aquatic friends prefer flakes over pellets, you should give this betta fish food a shot. As with most of Omega One's products, the main ingredient for this fish food is salmon.
Salmon is not only rich in protein, but also its skin has natural pigments that can make your betta's color brighter and more vibrant.
Other ingredients include halibut, shrimp, and herring.
But, make no mistake about it. Omega One Flakes is not just a color-enhancing and protein-packed meal.
I have yet to taste any fish food in my whole life, but I can say it is tasty because my bettas love it. In fact, they always get excited when I put it in the water.
Key Features:
Helps keep the aquarium clean
Boost betta's color
Rich in nutrients
Pros
Packed with vitamins and minerals
Fish seem to love its taste
Enhances the color of your betta
Cons
Flakes are a bit big
Sinks quicker than other betta fish food
14. Wardley Betta Fish Food
(Best Budget)
Looking for a budget-friendly yet effective option? Searching for other alternatives to the premier brands?
Then, check out Wadley when looking for the best betta fish foods!
Great price aside, this fish food offers a ton of perks for betta owners as well. For instance, it comes with an easy-stored and convenient jar.
Plus, the size of the pellet is big enough for your fish's diet.
This fish contains mainly shrimps, which are originally a betta's favorite. Of course, it provides premium quality protein to help support the normal growth of your betta.
Moreover, this fish food contains Vitamin C to enhance your fish's color and boost its immune system.
Key Features:
No artificial add-ons
Rich in Vitamin C
Protein-packed
Suitable for other types of fish
Pros
Increases immune system
Enhances betta's strength
Perfect for different kinds of betta fish
Cons
Broken pieces easily dissolve and can cloud your tank water
Pellet size might be a little big for some bettas
15. API Betta Fish Food
As an aquarist, you will love to have API to your betta fish food rotation. Since betta fish are mostly top dwellers, it will be easy for you to feed them with these small floating pellets.
The container features 1.7 ounces of healthy and nutritious fish food. Not to mention, it uses a clear water formula, meaning it has less ammonia, which can be toxic and harmful to fish.
Certainly, it contains a lot of protein to keep your betta fish strong and healthy.
Depending on your betta's diet, you can feed them twice a day with this fish food. It contains beet pulp and spirulina, which enhance the betta's vibrant colors.
Key Features:
Has high-quality protein sources like shrimp and squid
Contains all the essential nutrients
Less waste
Pros
Does not make the water cloudy
Rich in minerals and vitamins
Does not sink quickly
Cons
May smell slightly odd for some people
How To Find The Best Betta Fish Food?
Still having problems making the right choice? Here are a few tips that will come in handy in your search for the best betta fish food.
Go For High Protein Options
Check the ingredient list at the back, and take a look at its protein content. Ideally, you should go for betta fish foods that are more than 30% crude protein.
Avoid Fillers
Small amounts of filler for your fish food are fine, but make sure that it is not the majority of it.
Skip Plant-Based Food
Remember, betta fish are not vegans.
Avoid Low-Quality Pellets And Flakes
Although it is tempting to buy cheap and low-quality food for your fish, it is going to cost you more, in the long run.
Avoid Unidentifiable Ingredients
If you notice super long words and got no clue on what they are, you should avoid feeding your fish with that kind of food.
Frequently Asked Questions
What will happen if I overfeed my betta fish?
Overfeeding your fish can ultimately lead to an unpleasant appearance, discomfort, and sickness.
Is my betta bloated?
If your betta is bloated, it is likely having constipation. Sadly, constipation is quite common with these small tropical fish.
Symptoms include loss of appetite, not releasing enough fecal waster, and a bloated stomach. And, mostly, it is caused by overfeeding.
Therefore, it is essential to stick to a strict feeding schedule. Also, do not forget to opt for high-quality fish food that aids in their digestion.
How do I feed them?
It is actually pretty simple. Just take a pinch of your fish food and feed your betta until it consumes it in a period of 3 or 2 minutes. Do not overfeed your betta fish, and stick to your feeding schedule of around 3 times a day.
How long can they survive without food?
Bettas have learned to cope with limited food supply and dry season in the wild. That is why they can survive up to 14 days without consuming food.
However, when it comes to keeping bettas, it is better to underfeed them than overfeed your fish.
Will they still eat fish food from the tank's bottom?
Bettas, for the most part, consume their food in 2 to 3 minutes. So, be sure to give them the right amount in that time.
All the excess food dropped to the aquarium's bottom will just go to waste. Bettas do not go to the bottom of the tank to eat it.
My Top Pick
There are tons of legit contenders for the title of the best food for betta fish. But, if I have to pick one, it will be the Hikari Betta Bio Gold.
Not only does it float longer than other betta fish food, but it is also perfectly sized. Furthermore, it is loaded with protein, minerals, and vitamins that are essential to your betta's growth.
It even has Vitamin C, which aids in building their strong immune system.
To top it off all, this fish food contains ingredients that enhance the vibrant colors of your betta fish.