A perfectly stocked fish tank is absolutely a thing of beauty. To me, nothing is more relaxing and fascinating than watching a bunch of colorful fish swimming tranquilly among carefully selected decorations, invertebrates, corals, rocks, and plants.
Getting to this part or point of fishkeeping, however, takes a great deal of careful and meticulous planning. As you collect and keep fish, you are going to spend a ton of time researching and evaluating what kinds of fish will thrive in your aquatic ecosystem.
Trust me, it will be an ongoing process that will give you hours of unadulterated fun and pleasure.
And more importantly, you will have to figure out how many fish per gallon is best for your aquarium.
So, how many fish can you keep safely in your aquarium?
You might be a little surprised how often people neglect this essential question or factor, especially newbies.
While it can be pretty tempting to add plenty of stunning fish in your aquarium, overstocking can lead to a disaster.
Your pet may end up poisoned, diseased, or worse, dead.
That is why I strongly suggest that you first do your homework before stocking an aquarium with some new fish.
Your fish tank is an aquatic ecosystem, and the water's chemical makeup is crucial to sustain your finned pet and keep them super healthy.
Let us have a close look at how many fish your aquarium can hold safely.
Is The One Inch Per Fish Per Gallon True Or A Myth?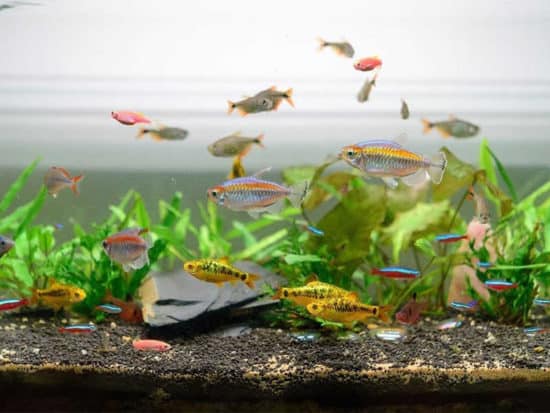 The number of finned pets to stock in your aquarium depends on the size of your tank. Truthfully, there is no perfect way to calculate the actual quantity of fish to stock in your aquarium. But, there is a general rule to stocking fish, and that is "1 inch of fish for each 1 gallon of aquarium water".
Seems so simple and easy, right? Sounds like a perfect and suitable ratio? Well, you are wrong! The problem is, this statement is overly simplified and is practically impossible to apply for most aquarium owners.
That is because the fish that people regularly stock in their aquariums are still babies. And, they will ultimately grow.
Moreover, this rule does not work in most cases because fish are pretty different in dietary habits and mass.
A 9-inch Oscar is not precisely equivalent to 9 1-inch Neon Tetras when it comes to food consumed, filtration needs, and space requirements.
Even though 5 1-inch Neon Tetras will find a 5-gallon tank cozy, a 5-inch Oscar can barely turn around. In fact, it might even overwork most filtration systems rated for that aquarium size.
There are also other reasons why the 1-inch-per-gallon rule is not suitable for all tanks.
Here are some of those reasons.
The Real Volume Of Your Fish Tank
The actual capacity of your fish tank is, in reality, less than you might think.
Fish, decorations, and substrate all take some space that the aquarium water will usually fill. In fact, a 10-gallon fish tank may be closer to 8 or 9 gallons when filled with plants, substrate, and rocks. Not to mention, there are water losses that inevitably occur due to evaporation.
Behavior Of The Fish
Another reason the "general rule" works poorly is that it ignores the behaviors of the fish, such as territoriality.
A trio of 3-inch Convict Cichlids might be a bit of a stretch but is manageable for a 10-gallon fish tank.
One of them will likely die, however, once a female and a male form a bond. And if you have 3 males in one aquarium, 2 might die in their attempt to be the dominant fish of the tank.
Knowing how your finned pets interact with one another is highly essential in knowing how many fish should be stocked in your aquarium.
Aquarium Dimensions
Aquarium dimensions should be considered as you determine the number of fish your tank can hold.
This is especially vital for large fish as well as those with unique space requirements.
If you are planning to keep large species like Pacu or Oscar, your tank must be two times as wide as the fish when it is fully mature.
A 55-gallon tank (with dimensions of 48 by 12 by 24 inches) is, for the most part, deemed as the minimum size for larger fish.
As far as pure volume, 55-gallon tanks are an excellent fit. But, it is usually 12 inches wide, which is practically the maximum length of a large cichlid or adult Oscar.
A 75-gallon aquarium (48 by 18 by 24 inches) is a whole lot more forgiving and suitable when keeping larger fish. Not only does it give plenty of space for your fish to maneuver, but it also is easier to maintain and clean since it has more volume.
Schooling fish that swim rather fast bust the "1-inch-per-gallon rule" as well.
Giant Danios, for instance, grow around 4 inches long and love to race around a tank as a bunch.
Likewise, Silver Dollars may reach 6 to 8 inches and love to go around with a school. Pacu may reach around 24 inches, and like the previously mentioned fish, move as a group and swim fast.
All these fish types must have longer aquariums that let them race naturally, instead of having constant, demanding turns.
Amount Of Waste And Body Mass
This rule should be ignored by aquarists for one simple reason: each species of fish releases a different waste amount and has a different body mass.
According to this "general rule", a 25-gallon fish tank can hold either 12 2-inch goldish or 25 1-inch neon tetras.
One 2-inch goldfish, however, will likely produce as much waste as the 25 1-inch neon tetras combined.
The truth about the 1 inch per gallon rule revealed in this video!
How Many Fish Per Gallon? Here Are The Juicy Answers!
Perfecting your tank's stocking level is science and an art. In general, the primary goal is to find out the maximum number of fish that you can keep in your aquarium without overcrowding.
Discovering this max limit will require a few considerations on your end.
With a bit of research, though, you will know how many finned creatures you may keep in one aquarium simultaneously.
Here is a step-by-guide on how to find out how many fish you can stock in your aquarium.
Know The Tank's Capacity
The standard measurement for aquariums is in liters. You should know your tank's capacity when you purchase it initially. If, however, you cannot remember or do not know the tank's size, you may figure it out on your own using simple mathematics.
You just have to measure the tank's height, width, and length. Then, multiply these measurements together. Afterward, divide it by 1,000.
Keep in mind, however, this number is a rough estimate since the actual value will be lesser due to the tank's decorations, substrate, glass thickness, and many more.
Consider The 1-Inch-Per-Gallon Rule
The 1-inch-per-gallon rule has a lot of flaws. Even so, you should think of it as a guideline and not a rule.
As a matter of fact, this rule works quite well for small community fish, such as platies, rainbowish, and tetras.
Also, do not forget to do some research on the type of fish that you want to keep, to know what tank size they need.
Use The Aquarium Surface Area Rule
The surface of your aquarium water is where the gas exchanges happen, which help sustain your pets. That is why you should consider this essential factor as you stock your aquarium.
A larger aquarium water surface means more exchange of oxygen for your pets in the aquarium.
Key notes:
A taller aquarium with the same surface area measurement as a shorter aquarium is not exactly capable of housing more fish, although it technically holds more volumes of water.
While it has some flaws, the surface area guide is a better guide than the 1-inch-per-gallon rule. After all, this guideline takes into account the fish's oxygen needs, instead of the aquarium's available space.
Surface area table example:
| | | | | |
| --- | --- | --- | --- | --- |
| Aquarium capacity (gallons) | Width | Length | Surface area | Surface area to gallons ratio |
| 29 | 12 inches | 30 inches | 360 square inches | 12.41 |
| 25 | 12 inches | 30 inches | 288 square inches | 11.52 |
Decide What Fish Species You Want To Have In Your Tank
Want a community tank with plenty of small fish? Then, consider keeping tetras or minnows! Do you prefer to have a community aquarium with fewer yet larger semi-aggressive fish? I suggest that you keep African cichlids or angelfish.
Alternatively, you may also keep one gigantic fish in your tank, such as an oscar.
Just look around, check out the options, and see what you really like. Then, spend a significant amount of time researching the fish's maximum size and compatibility.
Also, take note that some fish are more territorial and aggressive than the rest. In contrast, others do quite well in larger fish communities. Do your homework before you begin integrating your finned pets.
Consider Having Stocking Levels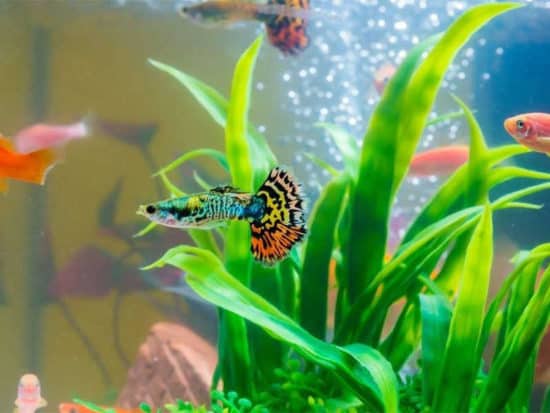 For smaller community fish (below 3 inches each), the 1-inch-of-fish-per gallon is a terrific guideline. But, it can be rather tricky to decide the number of residents when housing larger fish.
Let us assume that your stocking list has no fish that is too big for your aquarium or unsuitable to keep with other kinds of fish you want. In this case, you should start with 1 inch of fish for every 7.5 liters of tank water, and see how the aquarium looks.
You should also have a harmonious balance of middle fish, top swimmers, and bottom dwellers. That means you should consider where the kinds of fish you pick usually swim. The hatchet fish, for instance, prefer to stay at the top, while the Plecostomus often are bottom dwellers.
And, by the way, always keep in mind that your fish will eventually grow.
Research The Needs Of You Preferred Fish
Take a closer look at the different characteristics of every fish that you want to stock in your aquarium. A lot of fish require different things to be fully satisfied in their home.
Some fish are nocturnal, some are overly aggressive, and some like Goldfish are messy. Look at the nuggets of information from a variety of sources to know their differences.
Figure Out The Oxygen Needs Of Your Pet
Different fish types have different requirements for oxygen. Goldfish and other full-bodied fish consume more oxygen when compared to tetras and other slender-bodied fish.
If you are going to stock mostly larger fish, you will need more oxygen than filling an aquarium with mainly smaller pets.
Use a filter and air stones to oxygenate your aquarium water.
Take into account the oxygen needs of the adult versions of your juvenile fish.
How To Maintain A Stocked Aquarium
Maintaining a bunch of fish can be a perplexing puzzle for beginners. So, if you are stocking a few fish in your aquarium, make sure to heed these tips!
Look For A Top-Quality Filter
For larger fish quantities or messy fish, you will definitely need a powerful filtration system in your aquarium. A filter helps keep the tank spotlessly clean as well as maintain the purity of the tank's water, allowing your fish to thrive in its ecosystem.
There are some fish like betta and hatchetfish that need a slow-moving filtration system. Others like Oscars, goldfish, and loaches need a stronger filter.
Important tip: Look for the recommended filter for your aquarium size and get a size up (or two), especially if you are getting close to the limit when it comes to the number of fish you are keeping.
Develop Healthy Feeding Habits
Overfeeding is hands down, a cardinal sin in fishkeeping. Not only will it increase their risks for developing diseases, but it also leads to a messier and harder-to-maintain aquarium. This, in turn, decreases the amount of fish that you can sustain safely in your aquarium.
Additionally, overfeeding can lead to cloudy water, improper digestions as well as high levels of nitrate and ammonia.
Clean Your Aquarium Regularly
A dirty aquarium can cause an array of problems for your pet. It can make them uncomfortable, sick, and even lead to death.
The dirtier your aquarium is, the less finned creatures it can support due to compromised filtration and oxygen issues.
In general, you should clean your aquarium at least once a week, even if it is equipped with an exceptional filtration system.
You will love the aquarium stocking ideas shared in this video!
Conclusion
There is no all-in-one solution or magic formula to stocking fish in aquariums. You need to consider the dimensions and actual volume of your aquarium. Furthermore, you need to essentially take into account the fish species needs, such as filtration, feeding requirements, adult size, and sociability.
And, luckily for you, I have covered all those vital considerations above.
If there is anything you would like to share with us, please share your thoughts on the comment section!