No aquarist ever wants to have an unhealthy and sick pet fish. A couple of years ago, I went away on a short vacation only to come back home to a goldfish with fin rot.
At first, I panicked.
After all, fit one is one of the most common and known diseases in the world of fishkeeping. And it can be a rather serious health issue not just to the sick, affected fish, but to the entire aquarium ecosystem as well.
Fin rot is a rather cunning disease that may catch even off-guard experts and experienced hobbyists.
While it was a little scary and alarming, I managed to bring my baby girl back to her usual self with care and patience.
Sadly, it can be pretty tricky to find quality and trustworthy nuggets of information on how to treat sick fish with fin rot.
That is why I am making it my personal mission to do whatever I can to make it a whole lot easier for fish owners to diagnose as well as treat their pets with fin rot.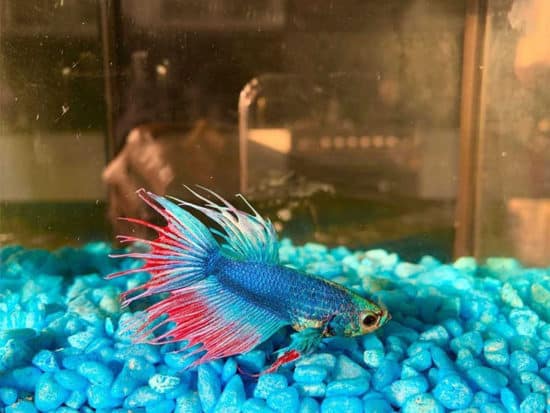 Ever encountered fish fin rot in your aquarium? Luckily, this common disease among aquarium fish is curable, especially if you quickly take action.
Keep on scrolling down to learn how to spot as well as treat and prevent fish fin rot.
What Is Fin Rot?
Fit rot, or also referred to as tail rot, begins around the edges of the fins or tail of the fish. Afterward, it damages the tissue of the tail gradually, reaching the fin's base.
And, if you fail to treat fish fin rot instantly and adequately, it may damage the pet's fins permanently. Furthermore, the fish may even die because of bacterial infection.
Fin rot is highly contagious as well and may transmit to another host. If you have a community tank, make sure to transfer your sick pet to a quarantine aquarium as soon as possible, so it does not affect the other finned inhabitants in your tank.
Fit rot is typically caused by bacteria. Although preventing fin rot is easy, treating it can be slightly tricky once it kicks in, especially in the advanced stages.
The truth about fin rot revealed in this YT video!
Causes Of Fin Rot
Fit rot can be triggered by a variety of causes. Although bacteria is usually the culprit on freshwater tanks, it may also be a sign of another severe potential health problem of your aquarium fish.
Here are the most common causes of fin rot.
Bacteria
Vibrio, Pseudomonas, or Aeromonas bacteria can end up in the aquarium in a multitude of ways. For one, pieces of second-hand aquarium equipment that are not cleaned properly can cause the spread of these bacteria.
Also, natural rivers have tons of these tiny parasites. They can live on a variety of gravel, driftwood, aquatic plants, and even in living food.
Overcrowded Fish Tank
Putting a ton of fish in a small aquarium increases your fish's risk of developing this disease. An overcrowded fish tank can usually lead to poor aquarium water quality.
Furthermore, the pH levels uncontrollably fluctuate. Plus, the levels of ammonia and nitrates from the fish waste will increase as well.
Environment
One of the most common triggers and culprits of fish fin rot is a gram-positive bacterium. And, this disease might be transmitted by infected pets to the other healthy inhabitants of your aquariums. The infected ones spread it to the tank's healthier fish by physical contact.
In some instances, infected fish tank water might spread this disease to the aquarium's healthy fish.
Additionally, feeding your aquatic pets with expired food as well as leaving huge food debris quantities on the tank can trigger the disease.
Other Fish
Aggressive fish may often nip the fins and tails of healthy fish. As a result, the pet with a bitten tail may get infection easily, which may result in fin rot.
Stress
Stress is, by far, one of the leading causes of fin rot among pet aquarium fish. For the most part, fish get pretty stressed when you inappropriately move them to other tanks.
Moreover, they will feel stressed when you handle them and play with them frequently.
Fish will also get stressed in the presence of a more territorial and dominant species.
That is why it is ideal to put fish with the same species or breed in one tank. And make sure to avoid mixing them with the more territorial, dominant, and aggressive species.
Temperature
When the aquarium water is too cold, it will expose your finned pets to the disease that may cause fin rot. So, don't forget to check the tank's water frequently.
Symptoms Of Fin Rot In Aquarium Fish
In its early stages, the edges of the fish fins will look milky and discolored. Sometimes, this symptom is so subtle that it will go unnoticed until the fraying of the tail or fin starts.
As the fit rot infection expands, small fin pieces die and begin to fall off, creating a ragged edge.
Fins, then, become shorter, over time, with the dead flesh continuously sloughing off the fins affected.
The area affected may become inflamed and red, with some bloody patches that appear as more tissues are consumed.
Here are the other symptoms of fin rot:
Loss of appetite
Frayed edges on tail or finds
Tail edges or fin have turned brown, black or white
Inflammation at the fin's base
A part of the tail or fin may have fallen off or rotted away
Less activity
Fish is always sitting at the tank's bottom
How To Treat Fin Rot?
Fish fin rot is highly contagious and a severe problem that should be addressed immediately. If your fish is dealing with fin rot, make sure to take note of these essential pointers.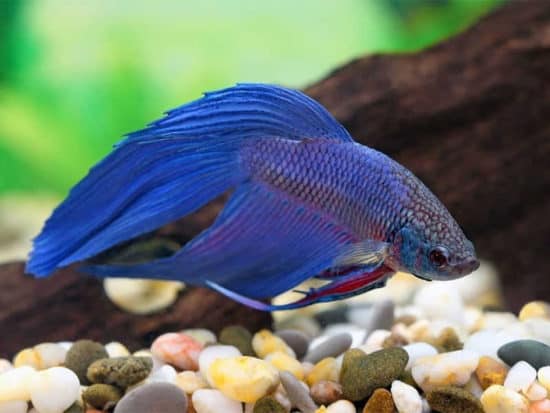 Transfer The Affected Fish To A Quarantine/Hospital Aquarium
Start the fin rot treatment by removing the affected fish from the primary aquarium, and put it in an unchlorinated and clean tank. Since it is a highly contagious disease, you should not keep the infected one with the rest of the gang.
Also, remove the other remaining fish in the tank and transfer it to another container. Do not use the net that you have used to transfer the infected fish.
Clean Your Main Aquarium
The bacteria causing the fin rot has to be eliminated from your main aquarium, so it will not spread to the other tank inhabitants.
To get rid of the bacteria, take note of these suggestions:
Completely drain the water in your aquarium.
Wash all the aquarium accessories.
Use hot water when washing your aquarium. You should not use soap as you clean the fish tank. Also, use paper towels to get into the aquarium's crevices and check if it has been thoroughly cleaned.
Soak the accessories of your aquarium in hot water for 5 to 10 minutes.
For live plants in your aquarium, soak them in a container of lukewarm water.
With warm water, wash the gravel of your aquarium.
Get rid of any debris or dirt with a small aquarium vacuum
Remove The Chemical Filter Media
The chemical media of your filter mainly absorbs all the chemicals from your aquarium water. And, to effectively treat the infected fish, do not forget to remove the chemical media that you are using to clean your aquarium like activated carbon.
Do A Complete Water Change
After washing the aquarium thoroughly, and letting it dry naturally, put the tank accessories and gravel back into your aquarium.
If your aquarium is not cycled, do a complete water change using conditioned or dechlorinated water. And, make sure that the aquarium water's temperature is around 80 to 82 °F.
If your aquarium is already cycled, you can do a partial water change of about 50%.
Check The Crucial Parameters Of Your Aquarium Water
Before putting your pets back into the aquarium, use a test kit to monitor the pH level of your aquarium water. The pH level should be about 7 to 8, and it should have a nitrate level of 40 ppm or below.
Nitrates should be zero as well.
Once the water becomes suitable and safe for your fish, add them slowly into the aquarium, including the infected one.
Use Antibiotic Treatments
Add antifungal medication or antibiotics to the aquarium water to help eliminate the fin rot. The mixture of medication and a clean tank can help your aquatic pets get rid of this disease.
You can find these fin rot medications over the counter at a local pet store. Also, look for a fin rot medication that is made especially for the type of fish you have, like fin rot medication for a goldfish or a Betta fish.
Fin rot medications usually contain antibiotics to remove the fungal injection, including sulfadimidine, trimethoprim, minocycline, and erythromycin.
Popular fin rot treatment types include Tetracycline and Jungle Fungus Eliminator. Likewise, you may employ brands like MelaFix, Waterlife-Myxazin, Maracyn II, and Maracyn.
Try Salt And Tea Tree Oil
Salt and tree oil are excellent natural alternatives to commercial fin rot medicines. Tea tree oil, however, is not deemed as a dependable treatment and should be mainly used as a preventive measure rather than an actual cure.
You may add tea tree oil to supplement your antibiotics or antibacterial medications.
Add two tea tree oil drops to the aquarium to keep its water sterile and clean.
Sodium chloride or tonic salt can be used for fin rot prevention. Add an ounce of salt for every gallon of aquarium water.
Use API Stress Coat Water Conditioner
Even though it is just optional, I still recommend using a double dose of API Stress Coat Water Conditioner. Not only will it protect your fish, but it also mends sores and fins caused by injury and infections.
This video will teach you a few things about fin rot!
How To Prevent Fin Rot?
Prevention is better than cure. And, these simple steps will help you prevent fin rot before it has a chance to manifest.
Do A Partial Aquarium Water Change Once A Week
A spotless clean aquarium helps avoid rot fin development. For a clean fish tank free from harmful bacteria, take note of these pointers.
Ideally, you should replace 10 to 15% of the water in your aquarium every week. If your aquarium is stocked heavily, make it 20% per week.
Add some aquarium salt to the tank water every time you finish cleaning to keep it healthy. Furthermore, do not forget to measure the levels of pH, nitrates, and nitrites of your aquarium water.
Do Not Overcrowd Your Fish Tank
While it may be so tempting to fill your aquarium with a ton of fish, overcrowding can lead to high levels of stress. And more importantly, it increases the risk of fin rot and other diseases.
Check if your fish are all compatible with one another, and have plenty of room for your pets to swim around.
If you notice that some of your fish are biting and nipping at one another, it may be a sign that your aquarium is overcrowded. You may have to remove some of them from the tank or isolate the one who is aggressive towards its tank mates.
Some fish species are well-known to be nippers of fins, including black widow tetras, serpae tetras, and tiger barbs. Catfish, targetfish, pufferfish, and angelfish can be nippers too. If you are keeping any of these fish, always keep an eye on these creatures. Better yet, separate these nippers from the more vulnerable kinds, such as guppies.
Give Your Pets Premium Quality Fish Food
Give your pets a diverse diet of premium quality fish food. Also, underfeeding and overfeeding your finned pets can lead to an unhealthy and weak immune system. This, in turn, will put your fish at a higher risk of fin rot and other diseases.
Overfeeding can also introduce a ton of bacteria into your aquarium since leftover food will float on the surface and increase the bacteria concentration in the tank.
Remove Some Of The Unnecessary Things In Your Tank
If your tank contains sharp decorations and plastic plants, remove them immediately or make them safer for your pets by filing down its dangerous edges.
Conclusion
Getting rid of fish fin rot is, as you can see, not rocket science. Truthfully, you can do it even if you are a newbie in fishkeeping.
Just heed my advice, and your fish will be perfectly fine!