How big do box turtles get? That is likely one of the crucial questions to ponder if you are thinking of buying a box turtle.
Like you, I have asked myself that question several times, as I was about to buy a box turtle.
And, luckily for you, I am going to make things a whole lot simpler on your end by revealing a detailed yet straightforward answer to this question.
Plus, I am going to share valuable nuggets of information to help you keep a happy and healthy box turtle.
Before buying any turtle, I always do a great deal of research to make it easier for the pet and for me.
I study their size, requirements, habitat, and diet.
And I know how hard it is to get some quality and reliable info. That is why I have created this in-depth guide for you and other aspiring box turtle owners.
Just keep scrolling down if you want to keep a big, healthy, and joyful box turtle.
How Big Do Box Turtles Get?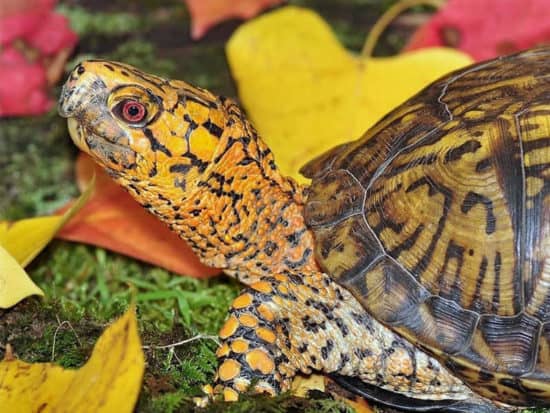 In general, box turtles grow around 4 to 6 inches in size, depending on their gender and diet.
Unlike other turtle breeds, a box turtle does not grow big and fast. And, they will remain small, in terms of size, even when they become adults.
As a matter of fact, the largest size of box turtle ever recorded is just 7 inches.
For the most part, box turtles grow around 3 inches in their first year. Then, these shelled pets will grow about 0.5 to 1 inch per year.
Their growth rate depends on a variety of factors, including access to UVB light, their diet, and gender.
Factors That Influence The Growth Rate Of A Box Turtle
Want your box turtle to maintain a steady and ideal growth rate? Then, heed these handy and valuable expert words of advice.
Diet
The diet of your box turtle is, by far, the most crucial factor that affects its growth rate. Trust me, no box turtle can reach its potential maximum rate of growth without a proper and healthy diet.
So, what is the ideal diet of box turtles? These pet reptiles are omnivorous, meaning they will eat meat, vegetables, and fruits.
And, since box turtles eat different kinds of food, maintaining a balanced and healthy diet should not be perplexing and difficult.
For a steady and healthy growth rate, your box turtle's diet should have these food options:
Aquatic plants
Vegetables
Fruits
Worms
Insects
Pellets
Fish
Meat
When feeding box turtles, make sure that they get adequate amounts of protein every day. Not only does protein help improve their growth rate, but it also helps develop a healthier and more durable shell.
Keep in mind, though, that too much consumption of protein can be hazardous to the health of your pet also.
Overconsumption of protein may lead to the development of pyramiding, a disease that causes deformations on the turtle's shell.
Calcium is another vital nutrient that should be in your pet's diet. All species of turtles need this nutrient for their muscular function, bones, and shell.
Speaking of their shells and bones, turtles also need phosphorus to keep them in tip-top shape. And, to fully absorb the calcium your turtle ingests, you need to provide them healthy and adequate doses of vitamin D3.
Usually, these significant nutrients are found in green, leafy vegetables.
Another thing worth noting is that young box turtles, especially those below 2 years, rarely consume anything else other than meat.
Even though they are omnivorous when adults, a baby box turtle prefers to eat meat.
Uvb Light And Basking Area
Basking is, no doubt, an essential activity for every turtle. Not only does basking regulate the turtle's body temperature, but it also exposes your pet to UVB rays.
For turtles, UVB light is a crucial element to their health. UVB light essentially helps in Vitamin D3 production, ultimately improving the consumption of calcium in a turtle's body.
If your turtle den does not have access to a UVB light, your pet will not get the ideal amount of calcium. This, in turn, leads to an array of problems, including shell rot, soft shell, metabolic bone disease, and abnormal growth in their bones.
Gender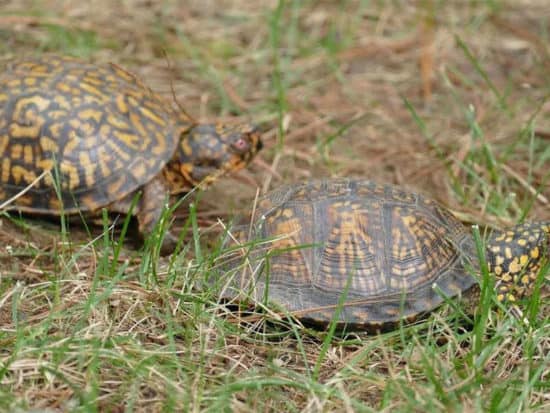 Interestingly, male box turtles are a tad smaller compared to their female counterparts. Male box turtles, on average, grow up to 5 or 6 inches. Females, on the other hand, will grow around 5 to 7 inches.
And, when it comes to weight, females are also heavier than males.
So, if you want a slightly larger box turtle, you should opt for a female.
Determining the box turtle's gender, however, is no easy feat, especially when they are smaller. Take note that their sex organs are located underneath their sturdy shells.
On the bright side, there are a few details that will help you determine whether a box turtle is a male or female.
The appearance is a vital indicator of a box turtle's gender.
Male turtles, typically, have a colorful head and legs. This unique feature is designed by nature itself to attract and mesmerize females.
Additionally, females have brownish eyes, while males have reddish eyes.
Their claws are different too. Females have straighter and thin claws. Males, meanwhile, have curved and thick claws.
This video has all the crucial must-know information about box turtles!
The Growth Rate Of Box Turtles In The Wild
Wild box turtles are biologically the same as their domesticated counterparts. But, since they live in a totally different environment, their growth rate will be slightly different from the ones living in dens or aquariums.
Wild turtles are not as fortunate as the domestic and sheltered ones, as far as food.
While pet turtles like goldfish are fed by their owners every day, those in the wild have to scavenge and hunt for food daily.
As a result, their diet will not be as balanced, healthy, and diverse as the one of a pet turtle, meaning they will have a slower growth rate.
Wild turtles do have the edge in basking. Unlike some pet turtles, they always have direct access to the sun, which is a better and more natural source of UVB rays than UVB lamps.
Perhaps, the most significant difference between these two turtle types is the weather. Since pet turtles are consistently safe and sound at home, they do not have to face the harsh changing climate on the outside.
Wild turtles, however, have to deal with the shifting weather, which also means they have to deal with the cold winter months outside.
When winter sets in, box turtles have to hibernate and be inactive for around 3 to 5 months. As they hibernate, wild turtles will barely eat anything, which eventually stunts their growth rate.
How To Create The Perfect Haven For Your Box Turtle?
For optimal growth, a box turtle should be kept in a safe outdoor haven or pen that somewhat mimics their natural habitat. As long as the temperature of its environment does not go below 50 °F, they will definitely thrive in this setting.
The pen must have walls that are 19 inches tall with a handy overhang to prevent your pet from climbing out. Likewise, it should have places to hide, shady and sunny areas as well as access to water. And, more importantly, it should be safe from any potential predator.
If it is not possible to keep your pet outdoors for the entire year, just try to do so for a few months.
To me, it is quite tricky for box turtles to thrive indoors. If you have to keep it indoors, though, you may use a terrarium with a capacity of 40 gallons or more.
Some turtle owners also turn sandboxes, kid's pools, and large tubs into turtle housing for indoor use.
An indoor haven will require a great deal of effort and space to create a suitable environment for your pet box turtle. Do not forget to equip the turtle's enclosure with places to hide, UV lighting, shallow dish for water, and a heat source.
Your box turtle might hibernate if they are housed outdoors. Before you let them hibernate, however, you should make sure that it is in excellent shape health-wise.
If your box turtle is unhealthy and it decides to hibernate, it may not wake up.
Keep in mind that the bodily functions of a turtle slow down when they hibernate. So, sick and unhealthy turtles may not be capable of fighting the illness when they are in deep slumber.
By the way, when setting up a home for your box turtle, take note of these essential elements.
Heat
Box turtles mostly need daytime temperatures ranging between 70 to 80 °F with a basking spot that is about 85 to 90 °F. When nighttime comes, the temperature may drop around 65 to 75 °F.
To help regulate the temperature, opt for ceramic heat emitters and a basking lamp.
Humidity
These pet reptiles prefer a level of humidity of 60%. And, you may maintain this level by misting daily and using a substrate that will retain a little moisture.
Lighting
You cannot expect your box turtle to grow and live for years without UVB lighting. After all, it is a vital element that metabolizes the calcium in your turtle's diet.
Without UVB lighting, your turtle may develop a metabolic bone disease and, worse, die.
These pets need UVB lighting for 12 hours, either via a UVB lamp or natural sunlight.
Substrate
Pick a substrate that is pretty similar to the natural environment of box turtles. Most turtle owners use moss, leaves, and chemical-free soil.
Common Box Turtle Health Problems
Health problems can stunt the growth rate of any turtle. Keep an eye on your turtle and see if it has any of these diseases.
Metabolic Bone Disease
The most common serious illness among these reptiles is a metabolic bone disease, which is caused by insufficient exposure to UVB lighting.
It is a severe and painful condition that weakens its bone and even leads to death.
Respiratory Infections
Respiratory infections, caused by insufficient humidity, are pretty common among these turtles. Symptoms typically include wheezing, a lack of appetite, lethargy as well as mucus around the nose and mouth.
If your pet is experiencing respiratory infections frequently, it may be a sign of deficiency in Vitamin A.
Parasitic Infections
Box turtles are vulnerable to parasitic infections. This kind of disease does not often show clear signs and symptoms, but it can be diagnosed quickly by a veterinarian who specializes in turtles and reptiles.
Shell rot
Shell rot is a severe and painful ailment caused by a fungal or bacterial infection. Symptoms include a dry or cracked shell, as well as an unpleasant odor emitted.
Discover a heap of tricks and hacks in keeping a box turtle by watching this video!
FAQs
Got a question about box turtles? Take a look at this guide's FAQ section and see if you have the answer to your question.
Should i be worried if my box turtle's growth is rather slow?
There is nothing to worry about, as long as you are providing a healthy diet and excellent living conditions to your pet reptile. Every turtle pet is different, and some of these reptiles just grow slower than the rest.
Do these pet turtles bite?
Box turtles are, in general, peaceful and calm pets, meaning they do not bite. Still, you should avoid touching your pet's snout or handling it, as they hate being picked up frequently.
Can I make my box turtle grow a bit faster?
Truthfully, you practically cannot do anything besides providing proper care for your pet. You just have to wait for your pet to grow and hope that it has exceptional genetics.
Are male turtles always smaller than females?
Not exactly! But, it is typically the case for most species and breeds of turtles.
How long do pet box turtles live?
With proper care and maintenance, a box turtle in captivity can live up to 50 years.
Conclusion
Box turtles, with proper care, can grow up to 7 inches in size. While its maximum size is not exactly mind-blowing, keeping a box turtle can be quite an exciting and joyful experience.
Box turtles are charming, friendly and smart pets that can spice up your home. And, best of all, they can be your best friends for life since they live a lot longer than most pets.