Whenever I stare at my turtle, I often notice a curious expression and look on its face. Every time I put it out of its den, my pet turtle exhibits some signs of both learned and innate intelligence.
Like a curious and adventurous traveler, this friendly reptile explores places and seems eager to learn more about the world.
One day, as I was observing my pet, a couple of questions suddenly popped up in my mind.
How smart are turtles? Are they intelligent, or are these signs just part of their normal behavior?
So, I did a heap of research and asked dozens of turtle experts. Eventually, I found some mind-blowing facts and revelations.
And guess what? I am going to share what I have learned with you. Plus, I will be unveiling a few of my personal tricks, hacks, and techniques in keeping a happy, smart, and healthy turtle.
Do turtles have memory? Do they have feelings? Can they learn tricks and new things? One thing is for sure, though: turtles are not stupid.
How Smart Are Turtles?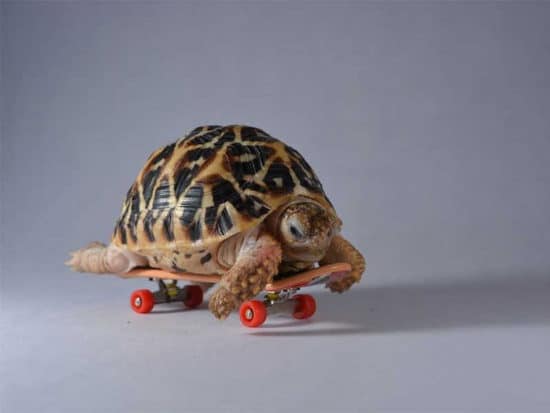 Everyone knows that turtles are not as smart as dogs. But guess what? Some turtle species are actually more intelligent than other animals.
For years, there have been countless scientific research and studies that prove certain species of turtles have superior intelligence.
Furthermore, recent scientific tests suggest that some turtle species are smarter than other reptiles and mammals.
I know what you are thinking. You want to know how experts measure the intelligence of these animals, right? Well, I am going to answer that question thoroughly.
Of course, I am going to share plenty of interesting facts about turtle intelligence, including their learning abilities and which species is the smartest.
What is Animal Intelligence? How do They Measure It?
Unlike humans, you cannot measure an animal's intelligence by a simple IQ exam. But, scientists and animal experts have come up with an array of ways and tests to measure their intelligence.
And, for the most part, these tests will help determine if the animal can think, learn new skills, communicate, and solve problems.
For instance, some puzzles and mazes can help test the animal's abilities in abstract thinking and problem-solving.
Remember those videos of mice going through mazes trying to find an exit?
If you have not seen one yet, check out the video below.
As it turns out, this test is quite useful in testing the animal's problem-solving ability as well as its spatial awareness.
The animal's communication skills can be observed easily when it is in its natural habitat.
It can be a bit difficult to see a turtle's ability to communicate in the wild, as most species are rather solitary. But, during their mating season, you might see tons of turtles communicating and interacting with one another.
Here is a video of turtles communicating as they mate in the wild.
The Brain of a Turtle
The brain is what really makes any creature capable of any form of intelligence. So, let us take a deeper dive into the brain of a turtle.
Reptile brains are, in general, not as large and complex as the ones of mammals. And, their brain structure is quite similar to a bird's.
Unlike bird and mammal brains, however, turtle brains greatly lack large cerebral hemispheres.
Since these brain areas control reasoning and learning, most turtles do not have the intelligence of a warm-blooded creature.
But, make no about it. Some turtles are incredibly smart and cunning. As a matter of fact, some turtle species can be trained to do a few things.
Although they are not as intellectual as some of the brainer mammals, they seemingly have mental faculties that remarkably function at a higher level than suspected previously.
Learning Ability
A turtle's brain may not be as complex as the one of a dog or other intelligent mammals. But, trust me, a turtle is not an intellectual slouch.
A lot of turtles, in captivity, display their incredible ability to learn. In fact, aquatic turtles that are fed every day at the same time will soon learn when their feeding time is.
Moreover, these turtles will even be waiting and ready as their keeper or owner approaches.
Also, tamed turtles can easily distinguish their owner or keeper from others, and will likely swim to that person just to be fed.
Terrestrial tortoises can even learn faster who their keeper or owner is. And, they normally follow their owners around.
There are also reptile prodigies and smart turtles that amazingly respond to their given names.
While you cannot teach your turtle to fetch a ball or the newspaper, it can nonetheless react to you and recognize you as its owner.
The Spatial Sense of Turtles
A string of experiments once studied and observed the spatial sense of a variety of turtle breeds. In these in-depth experiments, the scientists used a floor with a deep hole covered with a transparent glass sheet.
From rats to reptiles, a lot of different animal types were released at the so-called "cliff" or edge. Certain lizard species and other less intelligent creatures did not hesitate at all as soon as they reached the edge, running right across the clear glass.
If it was a real cliff, these animals would have unknowingly plunged into their own doom.
Rats and other mammals that are visually oriented approached the simulated edge with some caution, and ultimately refused to go beyond it.
Painted turtles are other aquatic turtles, interestingly, took notice of the edge. Unfortunately, these reptiles scrambled at high speed across the glass.
However, terrestrial turtles like box turtles did not go beyond the "cliff".
After the experiments, the researchers gave a short explanation for the behavior of the aquatic turtles in this experiment.
According to the researchers, aquatic turtles are principally used to basking over a body of water wherein they dive in safely to escape any attacking predator. As a result, these reptiles have no need for refined and exceptional spatial abilities.
Problem-Solving Skills
A turtle, when confronted with a complicated task, can also learn by social observation, relying on their memory, behavioral flexibility, or trial and error.
In a study conducted by comparative psychologist Anna Wilkinson at the University of Lincoln, researchers found out that a tortoise remembers some things on its own.
Moses, the test subject, is a red-footed tortoise that showcased her remarkable memory after navigating a maze successfully by avoiding the dead ends that she previously took.
Can They Recognize Their Owners or Keepers?
These reptiles can recognize you if you are the one feeding them. Remember, they do not care about anything else besides surviving.
Turtles only care about their basking, survival, reproduction, and food. Survival is the turtle's primary priority, and you can make them recognize you by helping them survive.
You give them food, protect them from any predators, and shelter them.
It may seem like their self-centered creatures, but it is just how they hardwired naturally.
Do Turtles Have Exceptional Memory?
Just because they are not as smart as a dog or a cat, it does not mean turtles are slouches. The truth is, they can understand a lot of things.
Based on my personal experience and research, turtles mostly remember something that will somehow benefit them.
As mentioned earlier, turtles can recognize their keepers since these people feed them and even play with them.
If, however, a stranger approaches them, they will likely hide inside their shell.
To me, turtles remember experiences and moments for just a short period.
If, for instance, you stop seeing your pet for a while, your pet will likely not recognize you.
But, if you feed and play with it every day, your pet will recognize you as well as your voice and hand.
Your turtle will even go towards you as you approach your pet reptile.
Do They Have Feelings?
These reptiles cannot show love, hate, or sorrow as us, humans do. Still, turtles have feelings.
Like humans, they feel pain. Turtles have nociceptors that bring them the sensation of pain when they are hurt. Likewise, they know when their tough shells are in pain.
And, they feel fear like us, which is why they survive in the wild. They can even sense every time there is danger ahead.
These creatures experience stress, as well. Whenever they feel somewhat threatened, turtles get stressed.
Sadness, happiness, and anger are a bit more complicated. They cannot show anger, but turtles do fight with one another, especially when looking for a mate or food.
Can Turtles Understand Human Language?
Turtles cannot understand our language. But, they can distinguish the different tones and sounds we produce.
So, in certain ways, they can respond to some of our words and commands.
What is the Smartest Turtle on Earth?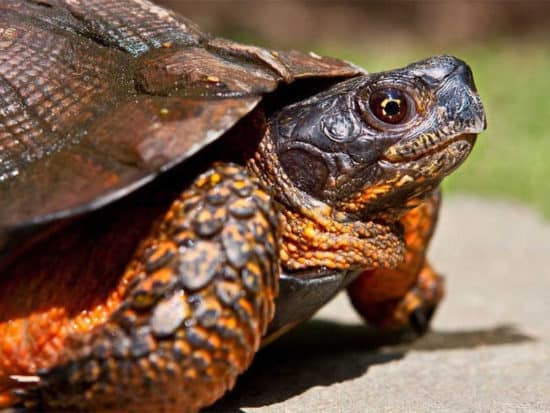 The North American Wood turtle is often deemed as the world's smartest species of turtle. For years, it has been the subject of a lot of animal intelligence research and tests.
And, it has proven itself on several occasions to be highly intelligent for a reptile.
Some of these turtles can even complete complex mazes as fast as typical laboratory rats.
Not to mention, they can recall mazes where they have not been for long periods.
There are plenty of other fascinating feats that prove it is the most intelligent turtle species in the world.
So, if you want to have a super smart reptile pet, you might want to consider having a North American Wood Turtle.
Are Box Turtles Intelligent?
Box turtle owners will be pleased to hear that these creatures are incredibly smart. According to recent scientific studies, box turtles in the wild can go through valleys, ponds, forests, and even perilous roads just to return to the places they remember.
These places include spots for water, nesting, mating, and food.
Are Red-Eared Sliders Smart?
As pets, these turtles are so smart that they can even recognize the appearance and voice of their owner.
Even better, these reptiles can solve a variety of problems, like attempting to escape when it is not in its aquarium.
It can also respond to some commands and its name. They respond to commands that will benefit them.
If they are appropriately trained, they can get pretty smart.
Are Painted Turtles Smart?
Painted turtles – the cousins of the red-eared sliders – usually impress pet owners with their intelligence. They have excellent eyesight and have an exceptional sense of smell.
As with most smarter turtles, they can recognize the individual that feeds them.
How to Keep a Healthy Turtle?
Want to keep a smart and healthy pet turtle? Then, heed all these valuable expert tips!
Provide Lighting and Heat
Turtles, like all reptiles, need some supplemental heat to help regulate the temperature of their body. Likewise, they need UVB rays to metabolize calcium.
If your pet lives in an indoor setting, you might need UVB emitting bulbs, ceramic heat emitters, water heaters, or special heat lights.
Outdoor Home
You can house box turtles outside if you provide a secure and safe enclosure for them. You have to make sure, though, that it has a watering hole, fencing, an enclosure cover, and a place to hide.
Aquatic Turtle Care Requirements
Water turtles, or also known as aquatic turtles, spend a great deal of time in the water. So, in addition to the basic turtle requirements, these turtles have special water requirements.
Red-eared sliders, softshell turtles, mud turtles, and African side-neck turtles are some of the examples of these turtles.
Box Turtle
Most turtles that live on land are referred to as box turtles since they have a boxy-like shape. While they have similar care requirements, a box turtle is pretty different from an aquatic turtle.
With proper care, these land-based turtles can live up to 50 years.
Conclusion
Turtles are, no doubt, charming and smart pets. Sure, they might not have the intellectual prowess of Labrador or a Golden Retriever, but you can still teach them a couple of cool stuff.
Just make sure to feed them properly and create a healthy and thriving habitat for your pet turtles.
Who knows? You might be raising the next reptile prodigy.