Are you a turtle owner who has an upcoming vacation or business trip? Wondering how long can a turtle go without eating?
Want to know what is the best food for turtles? Will your reptile survive without consuming water or food for days?
Guess what? I am going to blissfully answer all these questions to help you, as a turtle owner, keep a healthy and happy reptile.
The thing is, every turtle owner wants to create a thriving environment and provide the best conditions for their pets.
That is why I have written this guide using my personal experience and knowledge in keeping turtles.
So, let us get started!
How Long Can A Turtle Go Without Eating?
Want an exact and short answer? If your turtle is already a healthy adult and has been adequately fed all through its life, then you will not have a problem.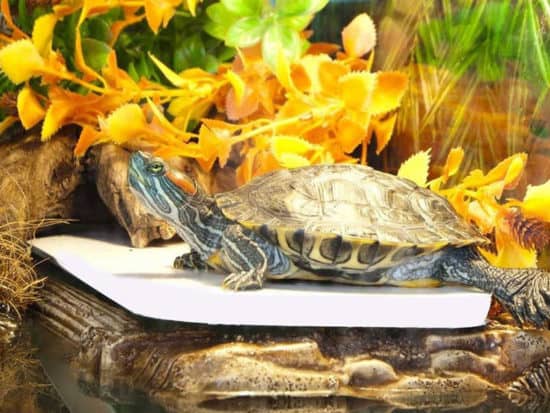 The truth is, turtles can live and survive without food for months. In the wild, turtles can go on months without eating when they are hibernating.
Unlike goldfish and some of its tank mates, a turtle does not consume a great deal of energy to maintain its internal temperature.
When turtles hibernate, they enter a state where their metabolism goes down, and their activity is low. For the most part, they hibernate in winter when the days are pretty cold.
But, most pet turtles do not hibernate in their environment for a variety of reasons.
Here are the most common reasons why pet turtles do not hibernate:
Turtle pets are exposed to healthy doses of UV light throughout the year.
The temperature inside their aquarium does not change drastically.
They have a constant food supply from their owners.
How Long Can A Pet Turtle Go Without Water?
I know a few turtles that managed to live for months and even a couple of years without food. Once, a tortoise pet was sealed off under the foundation of a home during a massive renovation.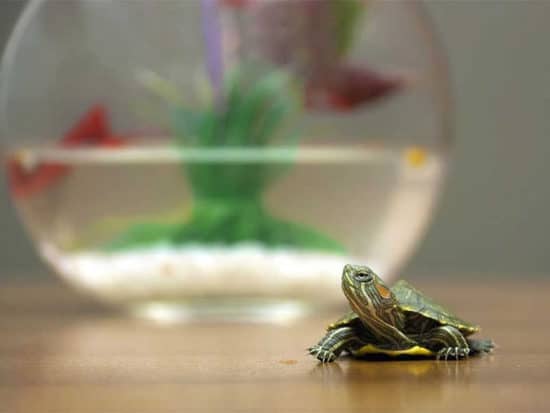 Surprisingly, it managed to survive for more than 2 years without food until it was discovered.
It is likely, however, that the turtle consumed insects and bugs that made their way into its hiding place.
Another turtle pet managed to live for a few months under a mountain of laundry when its owner forgot where it was placed.
When it was found, the turtle was dehydrated severely and had lost some of its size.
Both these real-life stories are nothing short of remarkable and even inspiring. Plus, they are a testament to the longevity and persistence of these reptiles.
Even so, these stories do not mean that you can leave your pet turtle unattended at home without access to water and food.
Trust me, water is highly essential to the overall health of your reptiles.
As with humans, these reptiles need healthy amounts of water for hydration, metabolism as well as for proper digestion and other crucial physiology processes.
A turtle, without water, will most likely die in a few months. Even if you are keeping a box turtle or other land turtles, your reptile tank or enclosure must always have a little water feature.
Factors That Can Affect How Pet Turtles Can Survive Without Food
How long can a turtle go without eating will depend on a few crucial factors. Here are the common variables that will profoundly affect how long a turtle can go without eating.
Clean Water Access
Turtles will live and survive for months without food. But, they cannot survive for a long time without clean water.
Nothing is more critical to turtles than water. Not only is it vital for hydration, but they also need water for swimming and for better food digestion.
As a matter of fact, some turtles cannot eat without water in their environment.
A turtle, with access to filtered, pure and clean water, can easily survive for several weeks, even without food.
Sure, it will lose some of its fats, but will not have any severe health problems. That frequently happens in the wild.
Environment Temperature
Turtles are cold-blooded creatures and ectotherms. And, that means they depend mainly on their environment's temperature to control and regulate their body temperature.
Turtles use external energy or heat sources to achieve the optimal temperature for their bodies.
Some ectotherms live in places and environments with constant and stable temperatures.
Most aquatic turtles, however, live in places with tons of fluctuations in temperatures.
In late autumn, for instance, turtles in the wild start their brumation (hibernation) – a period when most of their physical activities are reduced.
As a turtle goes into brumation, all its metabolic activities will be minimized to preserve its energy.
Turtles only wake up to consume water and go back to sleep once done.
These pet reptiles can go without food for a few months, until the temperature increases.
They, mostly, go into brumation because of the lack of heat in their environment.
In controlled places and environments, like our homes, these reptiles rarely get into brumation mode.
UVB, Heat Lamp And Basking Area Access
For optimal health, you should provide your turtle with a dry area where it can bask. Likewise, you should set the appropriate temperature level for your pet using a UVB lamp and a heat lamp.
Turtles can comfortably live without food for months with no serious health problems, as long as you provide them with these things and clean water.
For the water or aquatic turtles, their aquatic environment should have a temperature ranging between 78 and 82 °F.
Aside from that, you should also provide a warm basking area with a temperature of 80 to 85 °F.
If you have these things in their enclosure with clean water, then your pet turtle can survive for days without food.
Age
Age is a crucial factor that will affect how long a turtle can go without eating. If you have an adult turtle that is appropriately fed throughout its life, there is nothing to worry about.
Even though I do not recommend it, an adult and healthy turtle can survive without food for months.
If, however, your pet reptile is just 6 months old or less, then it might not survive for weeks without eating. Even if you have already covered the first 3 variables, a young turtle's survival, without food for weeks, is little to none.
Turtle's Overall Health
If your pet is not in tip-top condition, health-wise, you should not leave your turtle alone. If you have to be away for a while, look for something who can take care of it in the meantime.
How To Feed My Turtle When I Am Not Around?
I guess the real reason you are reading this guide is that you have a vacation or business trip coming, and you need someone to look over your pet.
And I am going to give you a short and simple answer.
If you have an adult turtle, and your trip only lasts for a week or less, your pet will not have a problem going without any food.
Nevertheless, there are a few things that you have to do to help keep your turtle in excellent shape when you are away for a short while.
Invest in a light timer: With this piece of equipment, your pet will have UV light daily and continuously.
Improve water quality: Do a quick water change and ensure that your turtle tank is full before leaving. In an open-air tank, water evaporates typically. So, if the water is not added, ultimately, it may limit the ability of your pet to climb onto its designated basking spot. Even worse, it can damage your aquarium filter.
Ask someone to feed and check your turtle: This solution gives you a little peace of mind and ensures that your pet is healthy. Write an in-depth guide on how to feed your turtle and what to do if something goes wrong.
Cannot find someone trustworthy to drop by and feed your turtle? Well, I have a little recommendation.
In this case, you should get a few feeder fish. Alternatively, you may put something live and edible for your turtle in your aquarium.
Having some hiding spots for the feeder fish in your tank will be very beneficial since it increases their chances of surviving for a few days.
Learn a few handy tricks when keeping a pet turtle by watching this video!
What To Feed My Pet Turtles?
It depends on the age and breed of your turtle. Take a look at these tips to know what is the best turtle food.
If your pet turtle is 6 months or younger, you should give them a daily source of protein, like cooked meat, dried fish, or shrimp and turtle pellets. Although they will likely not eat it, you should also offer vegetables to your pets.
You do not have to provide a protein source every day if your turtle is around 7 months to 1 year old. You may, however, give your pet some protein every 2 days. That way, you are preventing your pet from growing extremely fast. Also, keep offering leafy greens and vegetables to your turtles.
When your pet is 1 to 2 years old, you only need to provide a source of protein around 2 to 3 times per week. When they reach this age, they should be consuming more vegetables regularly.
Fresh Food For Your Turtle Pet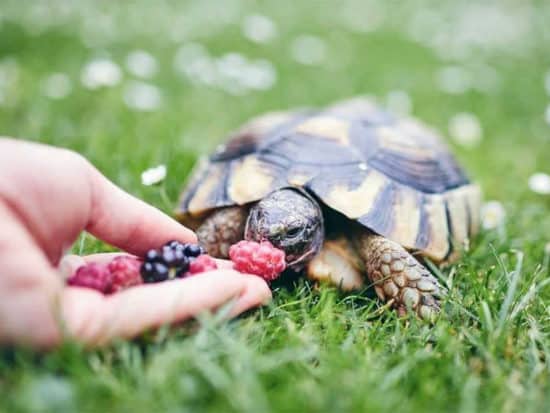 Turtles are omnivores, in general. Depending on the turtle species, these creatures usually eat these food choices:
Protein: Earthworms, crickets, snails, mealworms and boiled eggs
Fruits: Tomato, mango, kiwi, banana, cantaloupe, strawberries, grapes and apples
Greens: Spinach, kale, collard greens, lettuce, and carrot tops
Vegetables: Yams, squash, peas, carrots, beets, beans and corn
Flowers: Carnations, lilies, petunias, dandelions, and geraniums
What Do Turtles In The Wild Eat?
Like other reptiles, wild turtles practically eat anything that they come across. The diet of a turtle varies depending on its environment and whatever it can access within its natural habitat.
These are the common food sources for turtles in the wild.
Crayfish (aquatic turtles)
Snails (aquatic turtles)
Spiders (aquatic turtles)
Crickets (aquatic turtles)
Fish (aquatic turtles)
Fruits like raspberries, palmetto berries and blueberries (land turtles)
Cactus and cacti pears (land turtles)
Wildflowers (land turtles)
Leaves (land turtles)
Grass (land turtles)
From small insects to flowers, pet turtles may eat a wide array of food. That is why you, as a pet owner, should offer a balanced and widely varied diet to keep your pet happy and healthy.
With the right diet and supplementation, your pet turtle can live a well-fed, long, and happy life.
Furthermore, it will increase its odds of survival if it does not have access to food for a week.
Other Turtle Feeding Tips
Need tips and a little help when it comes to feeding your turtles? Then, make sure to heed these expert words of advice.
Avoid offering dairy products like cheese, yogurt, and milk to your turtles. Dairy products will likely cause problems and illnesses since turtles cannot digest them.
Avoid hamburger or any raw meat since it might become rotten or tainted before your pet eats it.
Fresh food is, no doubt, the best. Just make sure not to leave food in your turtle's cage or tank where it can rot or mold. Do not forget to clean the food and tank before you add another serving.
Offer small pieces of food, to make it easier for your pets to eat. Keep in mind that these reptiles do not have a set of teeth, and they usually use their jaws to cut the food they eat into small pieces.
Avoid bread, crackers, and other manufactured food, which may contain ingredients that do not support the health of your turtles.
Discover a heap of information about pond turtles by watching this video!
What Nutrients Are Essential To The Health Of My Turtle?
Animals need minerals, vitamins, fat, and protein. Calcium is, by far, a crucial part of the diet of your pet due to the pet's unique needs in its hard shell, which is mainly bone.
Also, when looking for the best food for turtles, look for pellets with protein levels of 40 to 45% and fat levels between 6 and 8%.
Got something that you would like to share with us? Do not be shy! Let us know what you think by using the comment section below. Ciao!