Everyone knows turtles are exceptional and graceful swimmers. After all, some of them spend most of their time swimming on the surface or underwater. But, what about those big and charming tortoises? Can tortoises swim?
If you are interested to know if tortoises can swim, then you are in for a treat today.
Just recently, I received an email from Stuart, who owns a bunch of pet turtles in Pensacola, Florida.
In his email, Stuart asked me if tortoises can swim as elegantly and skilfully as aquatic turtles. Additionally, he wants to know what is the difference between a turtle and a tortoise.
And, the truth is, I had been itching to write about this topic. I know a few people who almost unintentionally killed these reptiles, just because they do not see the difference between a tortoise and a turtle.
Eager to find the answers to these questions? Stick around, keep reading, and discover a plethora of expert tips and information about these amusing pet reptiles.
Can Tortoises Swim?
Tortoises, unlike aquatic and sea turtles, cannot swim. They can, at most, drift and float. And, if lady luck is on their side, they will find their way into land.
And sometimes, people think they are swimming because they are floating.
But, it is not wise to put a tortoise in water.
Tortoises and turtles are, in many ways, similar. But these reptiles are totally different when it comes to swimming.
And, there are plenty of reasons why a tortoise cannot swim as proficiently and skillfully as an aquatic turtle. Mostly, their inability to swim has a lot to do with their habitat and built
Why Can Tortoises Not Swim Like Turtles?
A lot of people think tortoises can swim because they look quite like turtles. As a matter of fact, it would be hard for a layman to spot the difference between the two creatures.
The thing is, all tortoises are actually turtles. They belong to the Chelonia or Testudines order, which are reptiles that have bodies encased safely in a bony shell.
Not all turtles, however, are tortoises.
So, if they are so similar, why can turtles swim while tortoises cannot?
The answer lies in the physiology of these reptiles.
Feet And Flippers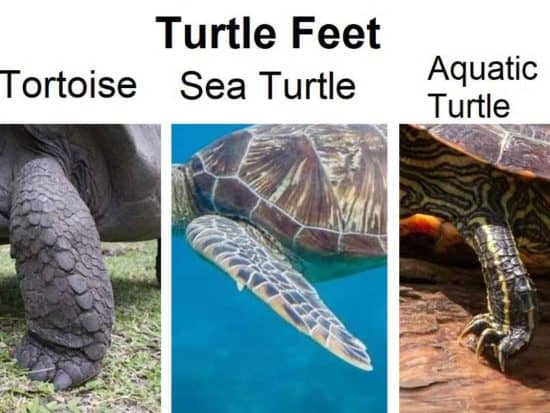 Sea turtles, aquatic turtles, and tortoises differ significantly when it comes to their feet. Not only are their feet shaped differently, but they also have different functions.
Tortoises have stable and robust legs that are somewhat similar to those of a robust elephant.
Their feet are also incredibly solid, and their toes are short. And, each toe has a short and thick nail.
In essence, these feet are ideal for traversing rugged terrain. Unfortunately, these feet are practically useless when swimming.
Due to their feet's shape, tortoises cannot effectively push water as they swim.
The feet of an aquatic turtle are not as robust and solid as those of a tortoise. But, they definitely swim a whole lot better than tortoises.
The turtle's toes are long with a web between them, which lets them swim in water with ease.
With these webs, aquatic turtles can push the water behind them as they swim.
Sea turtles, of all the turtle species and breeds, spend the most time underwater. That is because they have the perfect set of feet for swimming.
And, truthfully, we cannot even label them as feet since they are practically flippers. With their flat and elongated shape, these flippers allow sea turtles to push water with a great deal of efficiency as they swim.
Turtle Shells
The shell shapes of both sea and aquatic turtles are not just flatter but are more aerodynamic as well. And, thanks to this one-of-a-kind physical feature, sea, and aquatic turtles can move better and faster in the water.
And, their shells are streamlined too.
These streamlined shells, amazingly, do not block the water as they swim. Instead, it cuts perfectly through the water, reducing the friction drag that basically hinders their motion.
Tortoises, on the other hand, have dome-shaped shells. And, while it looks gorgeous, a dome-shaped shell increases the friction in the water, which limits their movement.
Habitat
A creature's habitat is crucial to molding its behaviors. Since these reptiles spend most of their time swimming or in the water, turtles have adapted to their natural environment.
As a matter of fact, their feet have evolved to make them more suitable for swimming long periods.
Tortoises also have adapted to their terrains and environment. They have rather strong legs that are shaped like those of an elephant to help these shelled reptiles easily move around their habitat.
Can Tortoises Hold Their Breath Underwater?
Turtles are terrific at holding their breath underwater. They are equipped to stay underwater and may hold their breath for at least 30 minutes.
Some turtles can even remain underwater for a few months without breaching the water surface for a quick gulp of air.
Tortoises are not as skilled as turtles, in terms of holding their breath. On average, they can only hold their breath for up to 2 minutes.
Tortoise Versus Turtle: Other Differences
Itching to know more about these fascinating reptiles? Then, make sure to check out this comparison chart.
Additionally, I have detailed additional information below to help you gain a more in-depth insight into these reptiles.
Comparison Chart
| Factors | Turtle | Tortoise |
| --- | --- | --- |
| Distribution | America and Africa | Americas, Africa and Asia |
| Shape of the shell | Streamlined and flat shells | Large dome-shaped shells (some species have bumps on top of their shells) |
| Shell weight | Lightweight | Heavy |
| Limbs | Long claws and webbed feet | Sturdy and short feet with legs that are bent |
| Diet | Omnivores, meaning they eat meat, leafy vegetables and fruits | Herbivores, but certain species prefer to eat live food |
| Birth | Hatchlings remain in their own nest for 90 to 120 days | Hatchlings move to their mother's burrow from their nest soon after birth |
| Lifespan | 20 to 40 years old (oldest ever recorded was 86 years old) | 80 to 150 years (oldest living recorded was 326 years old) |
| Kingdom | Animalia | Animalia |
| Class | Reptilia | Reptilia |
| Phylum | Chordata | Chordata |
| Family | Several families, including Emydidae, Dermatemydidae, Carettochelyidae, and many more | Testudinidae |
| Order | Chelonii (Testudines) | Chelonii (Testudines) |
Habitat Differences
Turtles live both in water and land. Tortoises, on the other hand, live only on land. Both creatures lay their eggs on the ground.
The mother digs a burrow and lays 2 to 12 eggs in that area. The hatchlings will, then, remain inside the egg from 90 to 120 days and incubate on their own.
After the incubation process, they will dig and make their way to the surface.
Turtle hatchlings will have to live on their own after birth. Tortoise hatchlings will have the protection of their mother for around 80 days.
Lifespan Differences
Tortoises may live as long as us, humans. On average, tortoises live about 60 to 80 years. Some of them live for more than 150 years.
The longest living tortoise ever recorded and verified was 188 years old.
Turtles, for the most part, live 20 to 40 years. Sea turtles have a longer lifespan with an average age of 60 to 70 years.
Some reports are suggesting that tortoises in captivity lived for more than 200 years. These reports, however, have yet to be fully validated and verified.
Most tortoises in captivity can live around 100 years, but they will require nurturing and carefully controlled environments.
Which Is Better As A Pet?
Both make terrific pets. Keeping one of them, however, requires a little effort and a great deal of commitment.
Tortoises are easier to take care of and maintain than turtles. But they might cost a bit more.
Geographical Origins
Turtles are found in America and Africa, while tortoises are found in Africa and Asia. Turtles mainly live in tropical and semi-tropical areas since they prefer a warmer external temperature to maintain proper warmth for their bodies.
Some turtles, though, hibernate during the colder months, alongside riverbanks.
Tortoises normally do not hibernate since their habitats are totally warm, even though some breeds can significantly limit their food and water for certain periods.
Turtles Float, Not Swim
A tortoise will not dive deep and head to the bottom like a rock if it enters deep water. Instead, it will float.
And we all know that swimming is different from floating.
Tortoises float in the water, not because they have flippers. Unlike turtles, they do not use their feet to remain above the surface.
They float, thanks to the air in their body.
Even so, tortoises do not have a lot of control when floating, even in calmer waters.
They may use their feet to change directions, but it typically does not work.
If a tortoise accidentally enters a fast-flowing river and is taken away by the water, its chances of survival are little to none.
It may float for a while, but since the river rushes, it has no control over the direction it is going.
The tortoise's only hope for survival is that the river will take it safely to the shore.
If you want to see how a tortoise floats, then make sure to check out this Youtube video.
FAQs About Tortoises
Got a question about these reptiles? Do not forget to check out the article's FAQ section.
1. What Do They Eat?
The food your pet tortoise eats will heavily depend on the breed you have. But, in most cases, tortoises enjoy munching on vegetables and leafy greens, such as kale, green beans, and broccoli.
Likewise, you may feed them a variety of fruits, including grapes, melons, and apples.
You need to provide your pet supplements to ensure that it grows properly. Your supplements should have Calcium and Vitamin A.
If your tortoise does not have enough UV light exposure, you might want to add a little Vitamin D3.
2. Do They Like To Swim?
Tortoises in the wild likely do not enjoy swimming. They usually avoid water, as they know they cannot swim their way back to the land.
These reptiles like to bathe, however, so you may see some of them dipping into shallow waters to freshen up.
Pet tortoises are known to enjoy some water time in a bathtub. Just do not leave your pet around water unattended, even for a minute.
It does not take a long time for a tortoise to flip or tip over.
3. How To Create The Perfect Environment For Your Tortoise?
When building a den or aquarium for your tortoise, make sure to take note of these tips and suggestions.
Space: Tortoises need a lot of space for them to live in and grow. A baby tortoise would require an area of around 3 square feet. Furthermore, it should have a safe outdoor spot for them to explore.
Substrate: A substrate covers the floor of your reptile's enclosure. Look for a substrate that is suited perfectly for the needs of your tortoise. Opt for a substrate that is not too moist since it may cause infection.
Lighting: These reptiles love basking in the light. It is crucial for their health to have a UV light and heat lamp.
Heating: Your pet's shelter must have adequate lighting and heating to meet the needs of your tortoise. It should provide warmth of around 30 to 35 degrees celsius
4. What Tortoise Species Make Excellent Tips?
Planning to buy a tortoise as a pet, but do not know where to start? You might want to take a close look at this comparison chart.
| Species Name | Life Expectancy | Substrate Required | Size | Diet |
| --- | --- | --- | --- | --- |
| Red Foot Tortoise | 50 to 100 years | Cypress bark | Large | Meat and vegetation |
| Marginated Tortoise | 50 to 100 years | Beechwood chips | Small and medium | Vegetation |
| Hermann's Tortoise | 50 to 100 years | Top soil or Beechwood chips | Small and medium | Vegetation |
| Spur Thigh Tortoise | Over 100 years | Gravel and rocks with soil and sand mix | Large to extra large | Vegetation |
| Leopard Tortoise | More than 80 years | Grass hay | Large | Vegetation |
This video boasts a plethora of cool information about tortoises!
Conclusion
Tortoises are not skillful and excellent swimmers. They cannot hold their breath for a long time, and they do not have the physical attributes to swim beautifully underwater.
Nonetheless, they make charming and terrific life-long pets for everyone. With an impressive and long lifespan, it is a pet that can even be handed down to the next generation.