There is nothing as satisfying as cultivating a healthy and thriving fish tank. But, maintaining an aquarium is a different and unique challenge, when compared to owning a canine or feline pet. An aquarium is an ecosystem on its own and requires some know-how, effort, and tools like an aquarium heater to keep it clean and healthy.
There are a few things you need to keep in mind when maintaining an aquarium at home. First, you need to keep the tank water spotlessly clean for your aquatic friends. Luckily, a superior quality filter system is the perfect antidote and fix to this issue.
Then, you need to maintain a consistent temperature for the water in your tank. Unlike us, humans, fish, and other aquatic creatures cannot regulate the temperatures in their bodies.
And that is where the best aquarium heater will come in handy.
Aquarium heaters are designed to keep your fish tank at a consistent water temperature. These heaters are available in an array of forms. Some tank heaters have adjustable thermostats, and some do not have this feature.
The size and type of aquarium heater that you need will heavily depend on the type of fish you are keeping and the tank's volume.
So, keep on reading to find the best aquarium heater for your home fish tank.
Types Of Tank Heater
Before I reveal my top picks, let us first discuss the different aquarium heater types. That way, you can easily find the best aquarium heater for your fish tank.
Submersible Heater
This aquarium heater variation is made to be submerged fully in the fish tank, creating more placement options. Just do not put in a place where it touches the tank decorations or substrate.
Additionally, make sure that the fish has plenty of room to maneuver and swim around the heater.
Immersible Heater
This type is also referred to as "hanging heater" since it hangs on your aquarium's back. It has a heating element perfectly encased inside a glass tube that will be immersed into the tanks water.
The immersible heater is rather common, popular, and so cost-effective.
Substrate Heater
These aquarium heaters are a rarity and, in general, not quite effective. For the most part, these heaters are made up of heating coils that you have to install along the tank's bottom. Afterward, you need to cover these heating coils with substance.
While they work reasonably well on some planted tanks, they are not ideal for overall aquarium heating.
In-Line Heater
It is an exceptional choice for larger tanks since it is so efficient. And, you can hook it up to your water tank filtration system and put it in between the filter and aquarium.
In-Sump Heater
Looking for the best aquarium heater that does not take a great deal of space? Then, consider the in-sump heater as one of your options when looking for the best aquarium heater.
They offer the same perks and features of in-line aquarium heaters but require a little space.
What Is The Ideal Type Of Heater For My Aquarium?
Experienced aquarium hobbyists, for the most part, opt for either an in-line or a submersible heater. When it comes to efficiency, these heaters are absolutely the best.
Immersible aquarium heaters are pretty affordable and ideal for smaller tanks. But, they are not as exceptional, performance-wise, as submersible aquarium heaters.
In-line aquarium heaters are a bit more expensive, and they usually do not work with each filter type, meaning it limits your options.
Aquarium Heater Comparison Chart 2021
Want to score the best aquarium heater, but do not know where to start? Here is an informative comparison chart that will help you pick the best aquarium heater for your fish tank.
Product Name
Dimensions
Heat Setting Range
Special Features
Aqueon Pro Adjustable Heater
4 x 17.5 x 2 inches
68ºF to 88ºF
Shatterproof, fully submersible
Hygger Titanium Aquarium Heater -

Best Overall

3.25 x 2.25 x 7.75 inches
32ºF to 104ºF
Automatic shut off system, anticorrosion
Cobalt Aquatics Tank Heater -

Best in Design

3.2 x 2.2 x 7.8 inches
32ºF to 104ºF
Accurate one-touch system, sleek design
AquaTop Quartz Aquarium Heater -

Best Budget

9 x 1.5 x 1.5 inches
68ºF to 93ºF
Submersible, setting is easy to use
SZELAM Mini Aquarium Heater -

Best for Small Fish Tanks

5.3 x 1 x 0.7 inches
73ºF to 82ºF
Smart control, easy to use, mini sized
Penn Plax Fish Tank Heater -

Most Durable

8 x 1.5 x 3 inches
76ºF
Extremely durable, programmable temperature
Hydor External Aquarium Heater -

Best in-line Heater

4 x 4 x 12.5 inches
68ºF to 77ºF
High precision temperature control, suitable for tropical and marine tanks
Fluval Electronic Aquarium Heater -

Best Electronic Heater

2 x 1 x 12.5 inches
68ºF to 98ºF
Fast heating technology,real time temperature reading
Eheim Jager Aquarium Heater
1.4 x 13.6 inches
65ºF to 93ºF
Shock resistant, Thermo safety control
Marineland Precision Aquarium Heater
3.9 x 1.6 x 13.4 inches
72ºF
Adjustable temperature control, advanced heating element
Finnex Hang-on Aquarium Heater
14.5 x 1 x 1 inches
63ºF to 75ºF
Titanium tube
Catalina RF-1000T Heater -

Best for Large Fish Tanks

14 inches long
72ºF to 93ºF
Resist corrosion
JBJ Titanium Heating System
8 x 2.5 x 18 inches
65ºF to 70ºF
Complete heating system
ViaAqua Glass Aquarium Heater
1.1 x 1.1 x 14.8 inches
76ºF to 80ºF
Fully submersible, functional on both salt and freshwater aquariums
Mylivell Aquarium Heater
9 x 0.75 inches
65ºF to 93ºF
Made of premium quality quartz glass
What Are The Best Aquarium Heaters?
Cannot make a decision? Still have no clue on which model to pick? Here is a guide that may help you narrow down your choices.
Top 15 Best Aquarium Heater Reviews in 2021
Every smart shopper knows the importance of reading reviews before making a decision. So, to help you select the best aquarium heater for your fish tank, I have listed down reviews of some of the top-rated models.
1. Aqueon Pro Adjustable Aquarium Heater
This Aqueon heater is a top-of-the-line model with an accurate electronic thermostat and a wide temperature setting range. With its shatterproof construction, this heater is totally durable and last for several years as well.
Even better, this Aqueon heater also offers a ton of incredible safety features. For one, it resets automatically as it cools down. Additionally, it prevents overheating by using its automatic shut-off feature.
When the tank's water temperature level dips below the ideal setting, it automatically activates the heater and turns on the red LED. And when the temperature hits the preferred level, the heater instantly shut down and the LED switches to green.
To get the best results with its heat distribution, put this aquarium heater near the tank's filter.
Key Features:
Adjustable heat setting
Durable
Fully submersible
Pros
Accurate readings within just one degree
Excellent warranty coverage
Extremely durable
Cons
Larger sizes seem too long
Black housing may not be appealing for some
2. Hygger Titanium Aquarium Heater
(Best Overall)
Hygger Titanium is unlike any other aquarium heater on the market today. It comes in a cool set that includes a thermometer, digital thermostat controller and a heater.
The heater of the package will be placed inside the fish tank. The thermostat, meanwhile, will be placed outside its container. That way, you can easily control and monitor the water temperature.
The Hygger Titanium aquarium heater is made up of premium quality titanium material, meaning it is corrosion-resistant, durable and lightweight.
And best of all, the aquatic heater is so reliable and easy to use. And, did I mention that it is perfect for both fresh and saltwater? To me, it is undoubtedly the best aquarium heater to date.
It is, no doubt, a safe and sure-fire option.
Key Features:
Automatic shut off system
Anti-corrosion and shatterproof
Accurate temperature
Pros
Supports up to 120-gallon tank
Digital LED
Wide control range for temperature
Cons
Can only be installed horizontally
3. Cobalt Aquatics Tank Aquarium Heater
(Best in Design)

The first time I laid eyes on the Cobalt Aquatics, I was amazed by its elegant and extraordinary design. As a matter of fact, it, to me, did not look like an aquatic heater.
And guess what? There is more to this beloved aquarium heather than its aesthetics.
With Cobalt Aquatics, you get a trustworthy tank heater with superior function and tons of practical features.
Furthermore, it has a flat and small design that works quite well in many different spaces.
The Cobalt Aquatics also has an outstanding control system for its temperature. It has an excellent one-touch design that lets you control this heater effortlessly. And, the temperature setting rage is rather generous when compared to the other best aquarium heaters.
Key Features:
Reliable and safe
Sleek and fashionable design
Sturdy
One-touch system
Pros
Easy setup
Does not overheat, thanks to its innovative technology
Shatterproof exterior
Temperature range is adjustable
Cons
A little expensive
Suction cups do not last long
4. AquaTop Quartz Aquarium Heater
(Best Budget)
Looking for a budget-friendly aquarium? Then, make sure to consider AquaTop Quartz as one of your top options, when looking for the best aquarium heater for your tank.
Not only is pretty affordable, but it is also a no-nonsense water tank heater that is totally submersible and available in a variety of sizes.
And, it has a rather generous range for temperature and can be placed anywhere in your water tank.
The heater is engineered to keep the temperature of your aquarium consistent by turning it on automatically when the temperature dips below the level you have set. Also, it turns off automatically when the water temperature goes higher than the one you have set.
Key Features:
Fully submersible
Temperature range is wide
Pros
Glass construction is sturdy
Easy to use and read the temperature setting
Cons
Glass is not shatterproof
The temperature reading feature is not fully accurate
5. SZELAM Mini Aquarium Heater
(Best for small fish tanks)
Got a small fish tank with a small capacity of five gallons or less? Well, you do not precisely need a big aquarium heater for your small tank. Still, you need to find the best aquarium heater to get the job done.
And, in this case, you should opt for the SZELAM Mini Aquarium Heater. It is incredibly functional, durable, and very simple to use.
As a matter of fact, you just have to attach this unit inside your aquarium and plug it in. Then, it will do everything else for you.
With an affordable price tag, this small aquarium is truly a great inexpensive option for those with smaller aquariums.
Key Features:
Mini size
Easy to use
Smart control
Pros
The package comes with free plastic fish tank plants
Turns off automatically when the right temperature is achieved
Easy fitting, thanks to its pair of suction cups
Cons
Applicable only for smaller aquariums
6. Penn Plax Fish Tank Aquarium Heater
(Most Durable)
Penn Plax is by far a terrific choice for people who love submersible aquarium heaters. And it is so easy to install as well.
You can put it wherever you want, and you can also install it both vertically and horizontally. And, like most of the best aquarium heaters, it is made from a reputable seller with premium quality products.
The model has both Fahrenheit and Celsius readings on it. And, with an easy to knob or dial, you can adjust the temperature of this aquarium heater with ease.
Another thing I like about it is the unit is made of sturdy shock-resistant material. And, it uses the finest insulated material, bringing your fish tank towards the safer side.
Key Features:
Gage is easy to read
Fully submersible
Heater is safe to use
Pros
Shock resistant
Easy to install
Warranty is up to three years
Safe to use in saltwater and freshwater alike
Cons
Water heating is not very accurate
7. Hydor External Aquarium Heater
(Best in-line heater)
Submersible tank heaters work excellently for medium and small-sized aquariums. But, they become a bit less efficient on larger aquariums. Thankfully, there are top-quality in-line aquarium heaters like Hydor that can get the job done.
The Hydor External Aquarium Heater uses PTC (Positive Thermal Coefficient Technology), ensuring the unit maintains the ideal range of temperature without overheating.
Moreover, unlike other aquarium heaters, Hydor external does not spoil the beautiful view of your decorative and lovely fish tank. Since it is placed outside the aquarium, it is also an excellent option for small and tight fish tanks.
Trust me, you will love the Hydor External Aquarium Heater.
Key Features:
Suitable for marine and tropical fish tanks
Easy to operate
High precision temperature control
Ideal for larger tanks
Pros
User friendly
Saves a lot of space
Can be hidden easily
Made of shatterproof and durable material
Compatible with all canisters
8. Fluval Electronic Aquarium Heater
(Best electronic heater)
The Fluval E Aquarium Heater is one of my favorites. It is incredibly efficient, and it continuously regulates and monitors the temperature of the aquarium. Additionally, it is an ultra-modern heater since it features sophisticated VueTech technology.
The heater has a colored LCD displaying the temperature of the aquarium in real-time. And, it even has a unique and cool way of showing the temperature.
If the tank's water varies from the temperature you have set, there will be a change of color in the temperature display.
To make things even better, the heater has a fish guard designed to protect the fish and turtles that may come in contact with the aquarium heater.
Truthfully, the aquarium heater is pretty costly. Even so, it is indeed worth every penny.
Key Features:
Dual sensors for temperature providing a real-time and accurate reading
Alert display system is colored.
Fast heating
Pros
5 years warranty
Uses state-of-the-art Vuetech Technology
Comes with a fish guide
LCD interface is user-friendly
Cons
Experience
Need high water flow
9. Eheim Jager Aquarium Heater
Eheim Jager is, for the most part, the first thing that comes to mind when people think of durable aquarium heaters. And, surprisingly, this Eheim heater is affordable compared to other aquarium heaters.
It is a super modern and fully submersible electronic aquarium that consistently provides warm temperature in your fish tank.
Also, you will be amazed to find out that it is made up of superior grade shatterproof glass that can withstand extreme fluctuations in temperature for hours. Furthermore, the glass jacket outside makes sure that the heat distribution is even throughout the fish tank.
This Eheim heater also comes with a Thermo Safety control technology, which protects the unit from operating in dry conditions. This cool feature shuts off the aquarium heater once it is removed out of the water.
Key Features:
Made of shatterproof and shock-resistant glass
Fully submersible
Temperature regulation is precise
Pros
Designed for saltwater and freshwater use
Has a super long power cord
Excellent light indicator
Cons
Can be a little tricky to install horizontally
10. Marineland Precision Aquarium Heater
You will undoubtedly love this fully submersible and rod-like aquarium heater. It is affordable, and it does not take up a ton of space. Available different sizes that range from 50 to 400 watts, this heater can accommodate up to 120-gallon aquariums.
And, with its low price, you may even buy a couple more smaller heaters to ensure the heat is evenly distributed in large tanks.
Speaking of heat distribution, the heater has an innovative heating element that provides efficient and superior heat transfer to the water of the aquarium.
Also, it has an automatic shut off feature or also known as a thermal switch that protects the aquarium heater from overloading or overworking.
To me, this is simply one of the best aquarium heaters for those who are looking for inexpensive options.
Key Features:
Thermal switch
Innovative heating element
Adjustable temperature dial
Pros
Made of sturdy material
Comes with a thermal switch
Inexpensive
Does not take a lot of space
Cons
The thermostat may not be very accurate
11. Finnex Hang-On Aquarium Heater
If you consider yourself a serious aquarist, you should consider this Finnex aquarium as one of your top choices. After all, it is a titanium-made heater, meaning it is indestructible and built for years of nonstop use.
In fact, it has a highly corrosion-resistant material that will hold up for years even in saltwater aquariums. Even better, titanium heats quicker than other material types, giving you the rapidly accurate temperature.
This submersible aquarium heater has an external protective sheet that keeps your aquatic animals safe from bumping into its hot rod.
It has no built-in thermostat, meaning you need to use an external thermostat. On the plus side, these devices are a bit more accurate than some built-in thermostats.
Key Features:
Analog controller is sleek
Titanium tube
Can handle up to 120 gallons
Pros
Affordable compared to other titanium aquarium heaters
Advanced controller with a memory chip
Durable
Cons
It needs an external control device for temperature
12. Catalina RF-1000T Aquarium Heater
(Best for large fish tanks)
The Catalina Heater is a super-powerful machine that can heat up countless water gallons in a few minutes. Not to mention, this rod aquarium heater is made of 100 percent genuine titanium and is fully submersible.
I used this heater in my 350-gallon backyard pond with a few turtles and Japanese koi on it, and it was perfect. The tank heater kept the water temperature at 70°F and when it got a bit colder outside, it still retained the temperature around 65 to 68°F.
Likewise, I used it in my greenhouse aquaponics system, and the water temperature increased by 20 degrees in less than 24 hours.
The Catalina aquarium heater is, in my book, a smart choice for those who own a large aquarium.
Key Features:
Resists corrosion
Heats up aquariums with a 400-gallon capacity
Durable
Pros
100 Watts of power
Ideal for large aquariums
Power cord is long
Cons
Does not have mounting brackets
13. JBJ Titanium Aquarium Heating System
JBJ is a mind-blowing and highly effective aquarium heater that comes in a kit made up of a titanium heating element, temperature remote sensing probe, and a digital controller.
The temperature controller of the model has a user-friendly push-button control and LED display.
Plus, it has a red light that indicates the heater's working status.
The titanium has to be connected with the unit's temperature controller. The heating element has no thermostat, as its primary purpose is just to heat the tank water.
The aquarium heater is made up of premium quality titanium, meaning you can use it fearlessly in freshwater and saltwater fish tanks. As an added plus, the unit has a heating guard that protects your aquatic animals from touching the heating rod.
Key Features:
Big LED display
Temperature probe is remote
Complete heating system
Pros
Display is large
Long lasting and durable titanium rod
Memory keeps storing even when the power suddenly goes out
14. ViaAqua Glass Aquarium Heater
No list of the best aquarium heaters is complete without the inclusion of ViaAqua Glass. In the world of aquarists, ViaAqua is not exactly a household name. Even so, it is packed with features that will create a safe and comfortable aquatic environment for your pet fish.
For instance, this aquarium heater is fully submersible and is made of shockproof quartz glass. Moreover, you can see and monitor the temperature with ease, thanks to its clear and bright display.
The heater is rather easy to install since it has suction cups that you can use to stick to your aquarium's side. You can get this aquarium heater in an array of sizes, and it perfectly heats up aquariums with an 80-gallon capacity.
Key Features:
Temperature setting highly visible
Premium quality quartz glass
Fully submersible
Pros
Shockproof
Ideal for both saltwater and freshwater tanks
Available in multiple sizes
Adjustable water temperature
Cons
Tends to turn off before reaching the preferred temperature
15. Mylivell Aquarium Heater
As soon as I unpacked this item, I noticed that this aquarium heater is lightweight and small. And, it was a godsend to me because it meant that the aquarium heater could fit easily in most tanks.
At first, the enclosed instructions in the packaging seemed a nice touch. Unfortunately, though, it did not do anything positive for me.
On the bright side, the heater was easy to set up. Also, I love how the aquarium heater climbs quickly to the temperature that you set.
And, it automatically and instantly shuts off when it reaches the set water temperature.
The way I see it, the heater works perfectly for both large and medium-sized fish tanks. But, it is not ideal for plastic aquariums.
Key Features:
Temperature is adjustable
Safe and convenient
High quality
Fully submersible
Pros
Good value for the money
Reaches the desired temperature pretty quickly
Shuts off automatically once it reaches the desired temperature
Cons
Instructions do not provide much help
Tips
Ready to buy the best aquarium heater for your fish? Here are some tips that will help you score the best aquarium heater. Furthermore, it features suggestions on how to maintain an aquarium heater.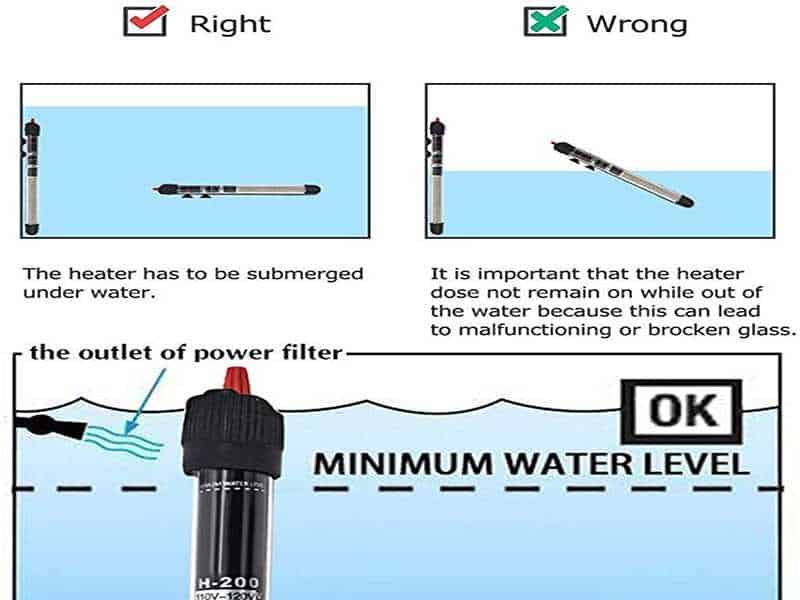 Buy the highest quality and best aquarium heater that you can afford. Read and follow the manual's instructions to keep it in mint condition and tip-top shape. Clean the tank heater at least once a month to avoid algae accumulation.
Avoid putting your tank near air vents or in direct sunlight. Keep in mind that these things can make it harder for the heater to maintain a stable water condition.
Be careful when choosing lighting for your aquarium because some systems produce a ton of heat.
Replace the heater of your aquarium once a year to ensure everything is properly working.
How Many Watts Does My Tank Heater Need?
The common rule is that you need around 2.5 to 5 watts for every gallon of aquarium water. It may, however, vary depending on the tank's size and temperature of the room or outer environment.
In general, you may refer to this guide below.
| Tank size (gallons) | Temperate raise by 5 to 9 °F | Temperate raise by 10 to 14 °F | Temperate raise by 15 to 27 °F |
| --- | --- | --- | --- |
| 5 | 25 watts | 50 watts | 75 watts |
| 10 | 50 watts | 75 watts | 75 watts |
| 20 | 50 watts | 75 watts | 150 watts |
| 25 | 75 watts | 100 watts | 200 watts |
| 40 | 100 watts | 150 watts | 300 watts |
| 50 | 150 watts | 200 watts | 2 x 200 watts |
| 65 | 200 watts | 250 watts | 2 x 250 watts |
| 75 | 250 watts | 300 watts | 2 x 300 watts |
FAQs
My Top Pick
Hygger Titanium is, without a doubt, the best aquarium heater today. Made from superior titanium, this aquarium heater is built to last for several years. Not only is it corrosion-resistant and sturdy, but it is lightweight as well.
The unit is user-friendly too, and is genuinely reliable. As a matter of fact, it shows real-time and accurate temperature reading.
If you are looking for the best aquarium heater for your tank, you cannot go wrong with Hygger Titanium.