The original EcoTech Marine VorTech pump got rave reviews thanks to a neat design that kept the electrics and hence the heat out of the tank – and the minor fact that it moves more water than a killer whale doing a belly flop (up to 3,000 gallons of nice low velocity flow per hour, according to the manufacturer).
Programmable pulse, lagoon and reef crest modes come as standard to keep the mix nice and random (I've personally always been a bit dubious about closed loop circulation systems returning water at a constant speed for 365 days of the year, even if they do the trick for many), and by hooking two Vortechs together you can create wave effects due to smart interaction between the pumps.
Amazing stuff… as it should be given the second-mortgage price tag.
While a Vortech pump remains a dream for reefers on a tight budget, a new nano version, the MP20, brings it a little more in range, at least in as much as you can put it in a smaller tank without soaking the ceiling.
At $299, it's hardly cheap mind (there's no European pricing yet). But then again, all the big brother modes remain in place, and the manufacturer's specs for the MP20 look very generous:
Flow: 500-2,000 gallons per hour
Power Consumption: 6-18 watts
Maximum Motor Temperature: 50-60 degrees Celsius
Aquarium Wall Thickness Range: 3/16"-3/4"
Appropriate Tank Size Range: 20-70 gallons
Dimensions: Wet Side- 3" diameter by 2.25" long, Dry Side- 3" diameter by 2.25" long
Clearance Needed Behind Aquarium: 3"
The fabulous blog glassbox-design has the first review of the MP20, and it's fair to say the guys there love it:
Conservatively rated by Ecotech Marine for 20-70 gallons, we have been completely caught off guard by the MP20 on our 90g reef. It will be difficult to convince us to use another stream style pump for some time. Here's why:

No cords in the tank
Strong controllable flow
Variety of Operational Modes
Quiet
Feed and Night modes
Easy cleaning
In fact, they've even defected from Tunze Streams to the Vortech camp, albeit noting one remaining unique point of the Tunze Streams is the ability to angle the flow (they suggest it's not a big deal, given the MP20's flow is capable of pulling detritus up from the tank bottom anyway).
There aren't many videos of the MP20 in operation yet, so just a couple to whet your appetite: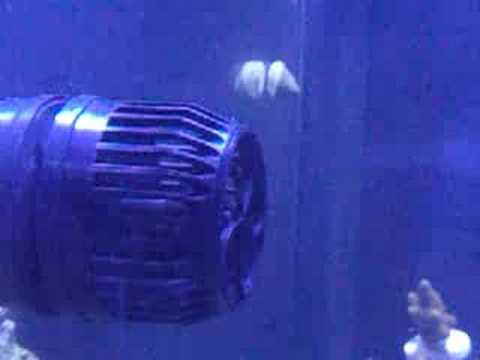 This is the new MP20 on a nano.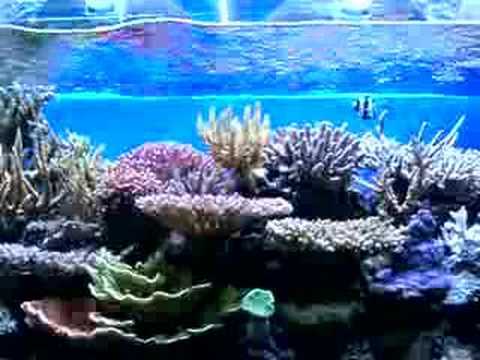 The reef above uses the original pump. Nice!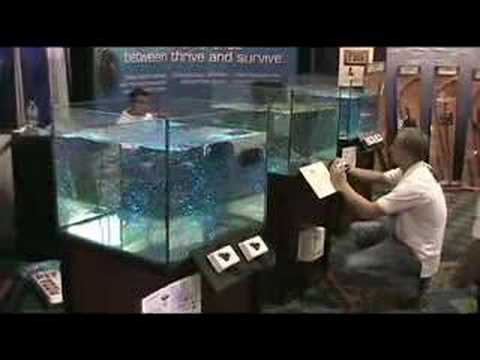 Finally, a demonstration of those wave harmonics.
Hmm… perhaps it's worth getting that second mortgage and buying one after all?
Check out Katy's Tropical Fish Guide for more aquarium info.